Some people believe that you should not heat olive oil. They erroneously believe that olive oil, when heated, loses its health benefits.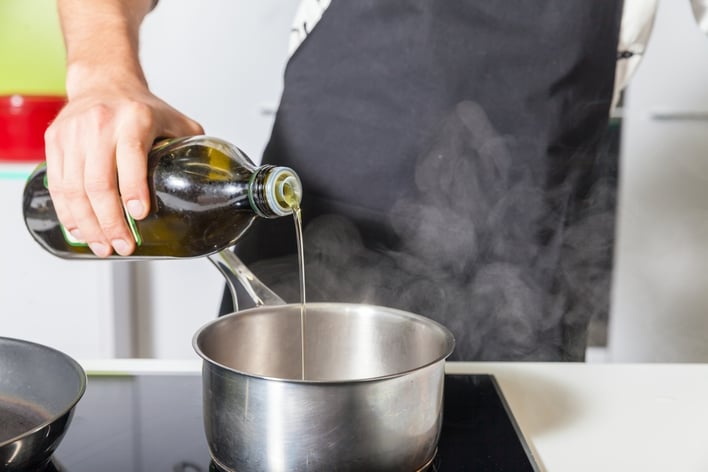 A study published in the Journal of Agriculture and Food Chemistry puts this myth to rest. Researchers heated extra virgin olive oils to 356°F (180 °C) for 36 hours. Yes, you read that right. 36 hours! They monitored oxidation and the minor compounds, including polyphenols. They found that the olive oil retained most of the nutritional benefits.
Two monovarietal extra virgin olive oils from Arbequina and Picual cultivars were subjected to heating at 180 degrees C for 36 h. Oxidation progress was monitored by measuring oil quality changes (peroxide value and conjugated dienes and trienes), fatty acid composition, and minor compound content. Tocopherols and polyphenols were the most affected by the thermal treatment and showed the highest degradation rate although their behavior was different for each cultivar. Alpha-tocopherol loss was more important in Arbequina oil whereas, total phenol content loss was greater in Picual oil. The latter showed an important decrease in hydroxytyrosol (3,4-DHPEA) and its secoiridoid derivatives (3,4-DHPEA-EDA and 3,4-DHPEA-EA), while lignans decrease was lesser. For Arbequina oil these compounds remained stable, and a lowering tendency was observed for tyrosol (p-HPEA) and its derivatives (p-HPEA-EDA and p-HPEA-EA). In general, flavone content showed a decrease during heating, being higher for Arbequina oil. On the other hand, oleic acid, sterols, squalene, and triterpenic alcohols (erythrodiol and uvaol) and acids (oleanolic and maslinic) were quite constant, exhibiting a high stability against oxidation. From these results, we can conclude that despite the heating conditions, VOO maintained most of its minor compounds and, therefore, most of its nutritional properties. (Source: https://www.ncbi.nlm.nih.gov/pubmed/17935291)
A similar study was published in 2012 in Food Chemistry. The study compared extra virgin olive oil to sunflower oil. Both oils were heated in an industrial fryer at 374°F for 40 hours. The study found that extra virgin olive oil performed better than sunflower oil. Read more
But what about the smoke point? You will be glad to learn that the smoke point of olive oil is high enough for cooking. Furthermore, smoke point is not a good indicator of a cooking oil's stability under heat.
In conclusion, it is safe to cook or even fry with extra virgin olive oil and you do not need to worry about losing the nutrients or nutritional properties.
Happy Cooking!
Further Reading: