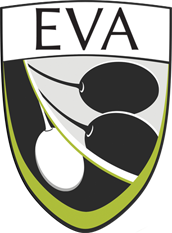 The Extra Virgin Alliance specialty olive oil section of the North American Olive Oil Association was formed to support qualifying producers of specialty extra virgin olive oils with a certification and promotion program. The stories of these unique products and the people who make them illustrate the craft of making extra virgin olive oil, helping consumers better appreciate this remarkable food. EVA wants to encourage you to explore the culinary delight that comes with the diverse varieties and styles of olive oil, reaping the benefits to your health and the health of the planet. In the grove, the mill, the market and the kitchen, EVA encourages you to learn, explore and savor!
The EVA Criteria
EVA has established a set of criteria of physico-chemical and organoleptic parameters as well as production and packaging requirements that establish a baseline of EVA quality characteristics.
+ Factors
The EVA brands all go above and beyond to create exceptional extra virgin olive oil. Every product meets the EVA criteria and requirements, but there are also characteristics that tell the unique story of these special creations, and the story of olive oil in general. We call these the + (plus) Factors and divide them into three basic categories: The Oil, the Land and the People.
The EVA Seal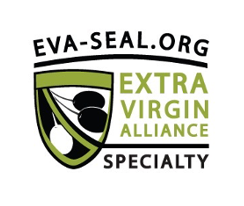 You can identify EVA certified extra virgin olive oils by the EVA Seal. These are special extra virgin olive oils that meet the stringent EVA quality criteria and requirements, and also bring an authentic, vibrant story as told by their +Factors. Exceptional attention to detail in all aspects of production, good stewardship of the land, generous engagement with the local and scientific community, product transparency and other special efforts are recognized in these +Factors. Each EVA brand oil will have a page on our website with more information about these unique products and their makers. Oils with the EVA Seal are a testament to these producers and their enduring passion for great olive oil—and your ticket to a world of healthy culinary adventure!