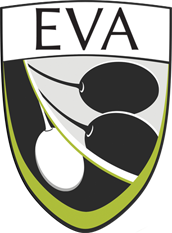 About EVA Criteria
Our Quality and Purity Requirements
For each olive oil featured in our Product Directory, EVA requires producers to submit a Certificate of Analysis that shows their oil meets our parameters for chemistry and sensory attributes. Samples are also submitted for our testing program that monitors
compliance using third-party labs. Only olive oils that meet the parameters set forth by EVA are included in our Product Directory.
Our Production and Packaging Requirements
In addition to sensory and chemical requirements, all EVA olive oils must adhere to Production and Packaging Requirements regarding harvest year, origin, and labeling. All EVA oils must:
Come from a single harvest season
Be properly packaged in dark/opaque, light-protective packaging
Have clear labeling that indicates the country of origin, harvest date and a Best By Date that is no more than 32 months from the date of harvest
Only EVA-certified olive oils are allowed to carry our seal.
Physico-chemical and Organoleptic Requirements
@ Production
@ Bottling*
@ Best Before Date
Free fatty acids (%)
≤0.3
≤0.4
≤0.5
Peroxide (meq O2/kg)
≤10
≤12
≤15
UV absorbency K270 **
≤0.14
≤0.19
≤0.21
UV absorbency K232
≤1.9
≤2.1
≤2.4
Moisture (%m/m)
≤0.2
≤0.2
≤0.2
Insoluble Impurities (%m/m)
≤0.1
≤0.1
≤0.1
Pyropheophytin a (PPP) (%)†
≤1
≤10
≤21††
1,2 Diacylglycerols (DAGs) (%)†
≥85
≥55
≥35††
Organoleptic analysis
Defects (median)
=0.0
=0.0
=0.0
Fruitiness (median)
≥3.5
≥3.5
≥ 1.0
* Only companies that blend lots will also need to meet the following requirements at bottling
** EVA will recognize a safe-harbor for the K270 value for companies that meet all other requirements and can provide support
for high polyphenol content
† Inclusion of PPP and DAGs parameters are adopted pending acceptance of NAOOA petition for an FDA Standard of Identity.
†† EVA will recognize a safe-harbor for the PPP and DAGs BBD values if it is established that the oil met the EVA parameters at
production and/or bottling