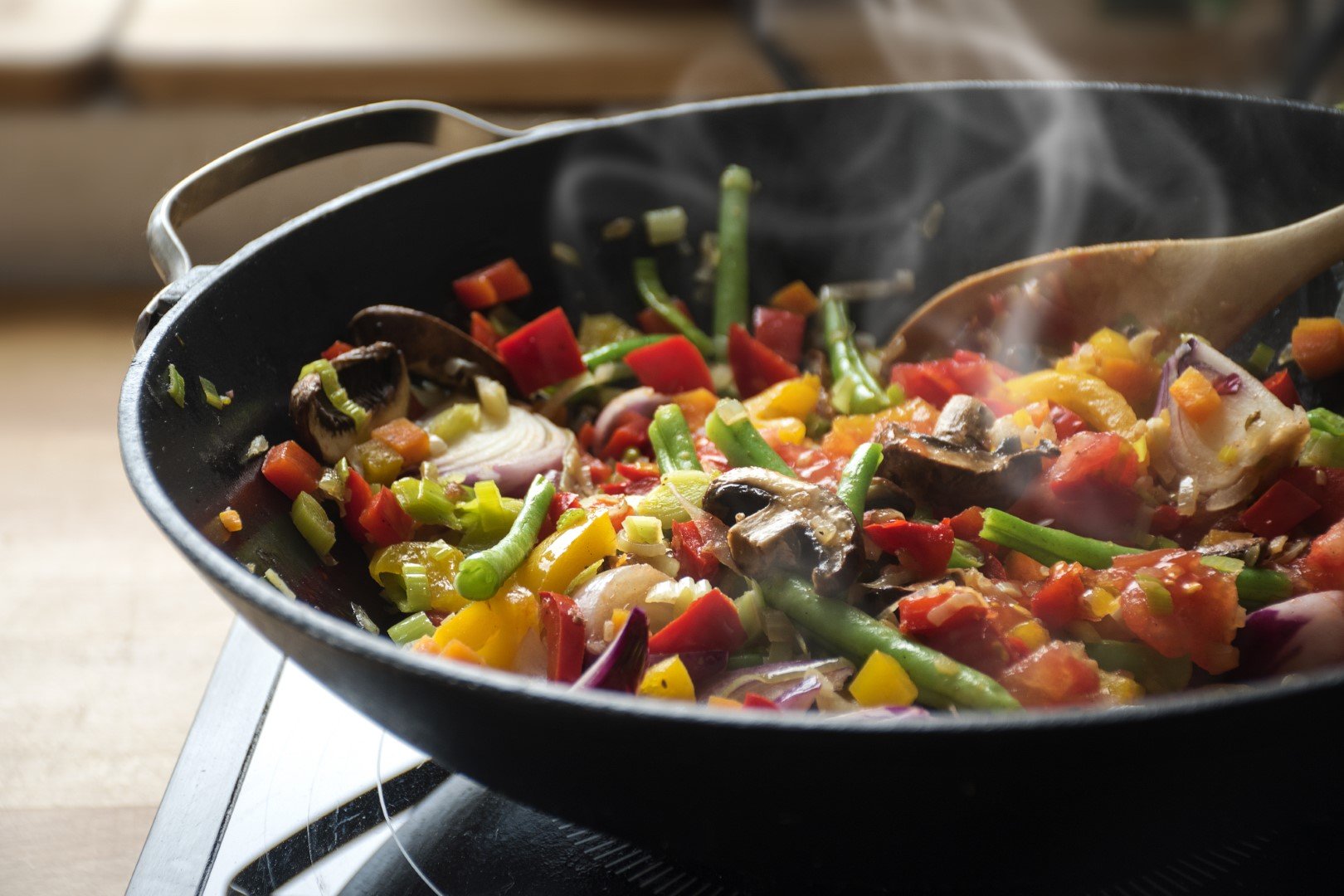 You may have heard the myth that one should not cook with olive oil. The Culinary Institute of America busts this myth and confirms that you can, and should, cook with olive oil even under high heat.
In their whitepaper "Olive Oil and the Plant-Forward Kitchen", The Culinary Institute of America promotes olive oil to improve the health of the planet and its inhabitants. Olive oil is the best cooking fat from a health and sustainability perspective. Olive oil is recommended by the CIA for all methods of cooking.
The best, most aromatic extra virgin olive oil (typically most expensive) is recommended for raw/cold usage or used as a finishing condiment. However, applying heat can open new realms of culinary possibilities. The CIA recommends that olive oils with intense green fruitiness or medium green fruitiness should be used at lower temperatures for maximum preservation of flavor and antioxidants.
The higher the heat and the more complex the preparation, the less important it is to use the
most aromatic oils, unless one's budget can afford it. The CIA recommends cooking with extra virgin olive oil whenever an option.
It is notable that the CIA dismisses concerns about smoke point or safety when it comes to cooking with olive oil.
FRYING
According to the chefs at The Culinary Institute of America, you can, without question, fry with olive oil with great results. But they say that is not really the right question to be asking. "The better question is: what is the best way to deep fry with olive oil? And the following question: what should I consider when thinking about how to fry with olive oil?"
Here's what you need to know, according to the technical experts at the International Olive
Council:
"Olive oil is ideal for frying. In proper temperature conditions, without over-heating, it
undergoes no substantial structural change and keeps its nutritional value better than other
oils, not only because of the antioxidants but also due to its high levels of oleic acid. Its high
smoke point (210°C/410°F) is substantially higher than the ideal temperature for frying food
(180°C/356°F)."
The whitepaper cites a study published in ACTA Scientific Nutritional Health which reports that smoke point is not a reliable indicator of cooking oil stability. The study found, after heating a number of common oils including extra virgin olive oil (EVOO) to 240°C and then holding the oils at 180°C for 6 hours, that the "EVOO yielded low levels of (unhealthy) polar compounds and oxidative by-products (compared with other oils). EVOO's fatty acid profile and natural antioxidant content allowed the oil to remain stable when heated (unlike oils with high levels of polyunsaturated fats [PUFAs] which
degraded more readily)."
If one is shallow frying small amounts of food where less oil is required, the CIA recommends a good-quality extra virgin olive oil—depending on budgets and desired flavor outcomes. In the case of deep frying, where large amounts of oil are required, many chefs and cooks will switch to the less expensive "olive oil" where one is getting some good olive oil flavor but not paying a premium for highly aromatic oil that will need to be replaced after four or five times of use. Of course, if budgets
permit, there is no issue with using more expensive extra virgin olive oils as, again, they will be
below the smoke point if proper, deep-frying techniques are followed.
HIGH HEAT
The CIA report points out that one should take into account variables affecting frying temperature when sautéing vegetables. "When vegetables are sautéed in a pan with extra virgin olive oil, the high moisture content of the vegetables—depending on the type of vegetables, their configuration in the pan, and the amount of oil used—can contribute to keeping pan temperatures lower than what might be imagined, and thereby conserving more of the special flavors and other positive attributes of extra virgin olive oil."
In conclusion, medical experts, nutritionists and dieticians and chefs at The Culinary Institute of America recommend cooking with the best quality olive oil that one can afford.
Further Reading: