It is time to celebrate the eight-day Jewish festival of Hanukkah. Throughout the world, Jews will light their menorahs with candles or oil lamps and prepare traditional foods cooked in oil.
According to tradition, in 165 B.C., during the re-dedication of the Holy Temple (the Second Temple) in Jerusalem, a small quantity of oil used to light the Temple's menorah miraculously burned for eight days. Hanukkah commemorates this event.
The oil used in the Temple's menorah was most certainly olive oil. Olive oil was, and still is, the main oil used in the region. As Dr. Rafael Frankel explains, "In the Hebrew Bible, in the Old Testament in several places it speaks of pure-beaten olive oil for the light."
This year, try olive oil instead of candles in your menorah. You can still buy oil menorahs or adapt an existing menorah for oil.
It is traditional to eat fried foods on Hanukkah because of the significance of oil to the holiday. The tradition of eating deep-fried foods on Hanukkah was considered ancient even in 12th-century. Among Ashkenazi Jews, this usually includes latkes. In Israel, jelly doughnuts or sufganiyot are served.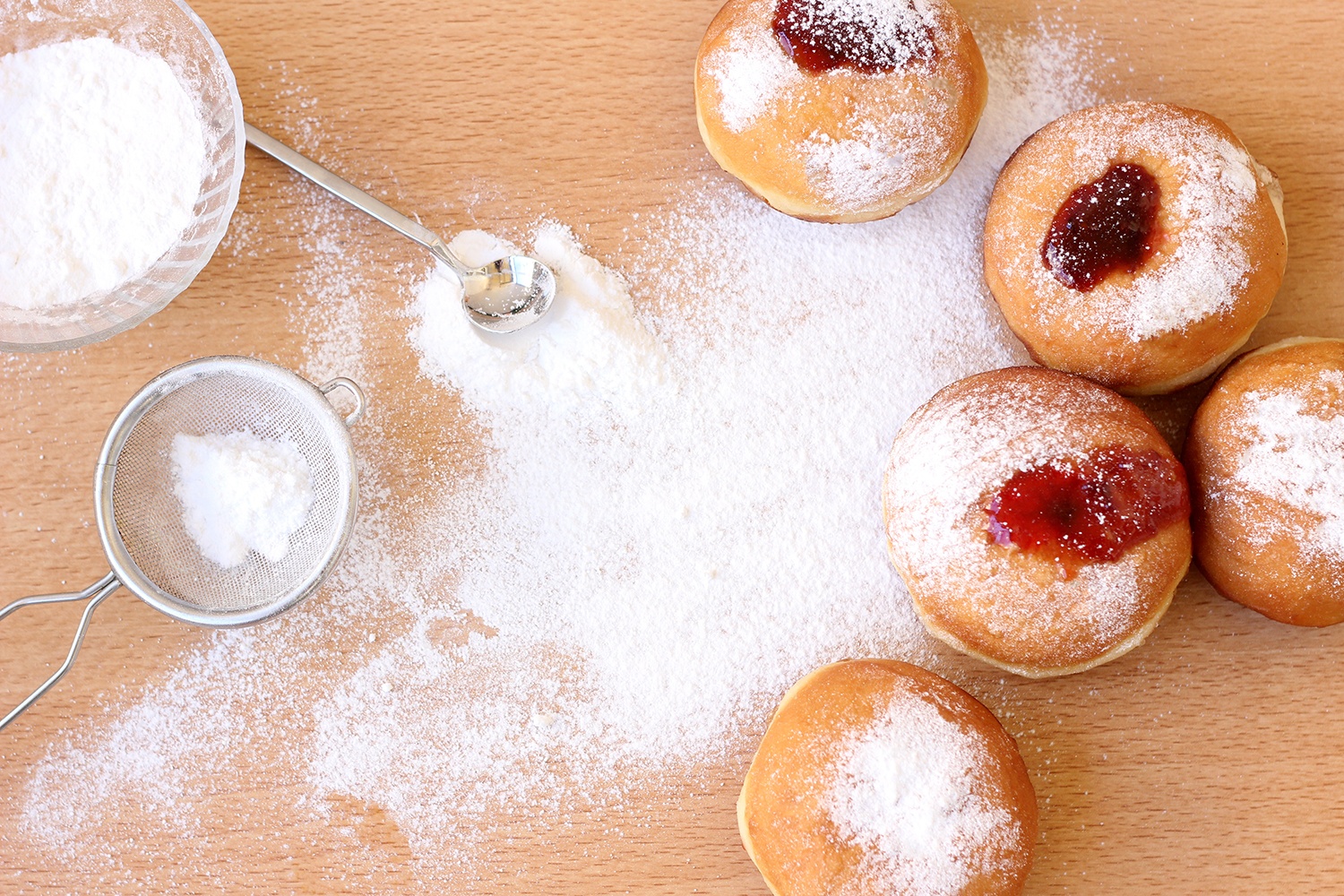 Sufganiyot Recipe
Ingredients
1 package (2¼ tsp) Active Dry Yeast

½ cup milk
¼ cup water
¼ cup olive oil, plus larger quantity of olive oil for frying
1 egg
1 tsp kosher salt
¼ cup granulated sugar
3 cups bread flour (15 oz by weight)
Confectioners sugar for sprinkling
Strawberry jelly or seedless jam for filling
Instructions:
Combine milk, water and oil in a sauce pan; heat to 120-130°F.

Combine yeast, 1 cup bread flour, salt and sugar in medium size bowl.

Once the liquid mixture has reached the correct temperature, remove from heat and whisk in the egg. Add to the dry mixture.

Stir in the remaining flour to make a stiff dough.
Knead on floured surface for 5-7 minutes until smooth and elastic, adding additional flour if necessary.
Note: If you have access to a food processor, bread machine or stand mixer, just add the wet ingredients to the dry all at once and let the machine do the work for you.
Form a ball with the dough.
Rub olive oil in a large bowl and place the dough in the bowl to rise. Cover with plastic wrap or a tea towel and put in a warm spot and allow to rise for 1 hour. The dough should double in size.
Once the dough has risen, punch it down and knead to remove air bubbles.
Divide into 2 parts.
Prep your work area by lightly flouring a surface to roll out the dough.
Also prep a cookie sheet by sprinkling with flour. This is where you will place the doughnuts after you have cut them.
Roll out each dough ball to 1/2 inch thick.
Using a floured glass or biscuit cutter (we used a mason jar lid), cut out the sufganiyot and place on the floured cookie sheet. (S

ufganiyot do not have holes. If you wish, you can cut holes to make doughnuts).

Knead the scraps and roll them out again. Repeat until you have used up all of the dough.
Cover with a tea towel and allow to rise again. It will take 30 minutes to 1 hour. The doughnuts will rise and double in height. To test, touch the side of the dough lightly with your fingertip. If an indentation remains, the dough is ready.
Fill a wide pan with 1-2 inches of extra virgin olive oil for frying. Heat the oil to 350°F. Fry 1 minute per side until puffed and golden brown. Keep an eye on them, they cook very quickly.
Transfer to a wire rack to drain and cool.
Now is the time to fill the doughnuts. You may own tools such as a cupcake injector or special piping tip. If so, poke a hole through the side or top of the

sufganiyot and fill with a the seedless jam.

If you lack special equipment, you can simply

cut

them open on the side with a paring knife and spoon in the jam

(take care not to cut all the way through to the other side.) Transfer back to the wire rack and continue with each one.

Dust with powdered sugar and serve!
Recipe adapted from: Red Star Yeast.
* Tip: You can fry sufganiyot in extra virgin olive oil or you can use olive oil (sometimes marked as "classic" or "pure" olive oil). Olive oil contains a mixture of refined and extra virgin olive oil, has a more neutral flavor and is a more economical choice for frying. Note that extra virgin olive oil has been found to be a more stable frying oil than other oils.
Happy Hanukkah!
Further Reading: