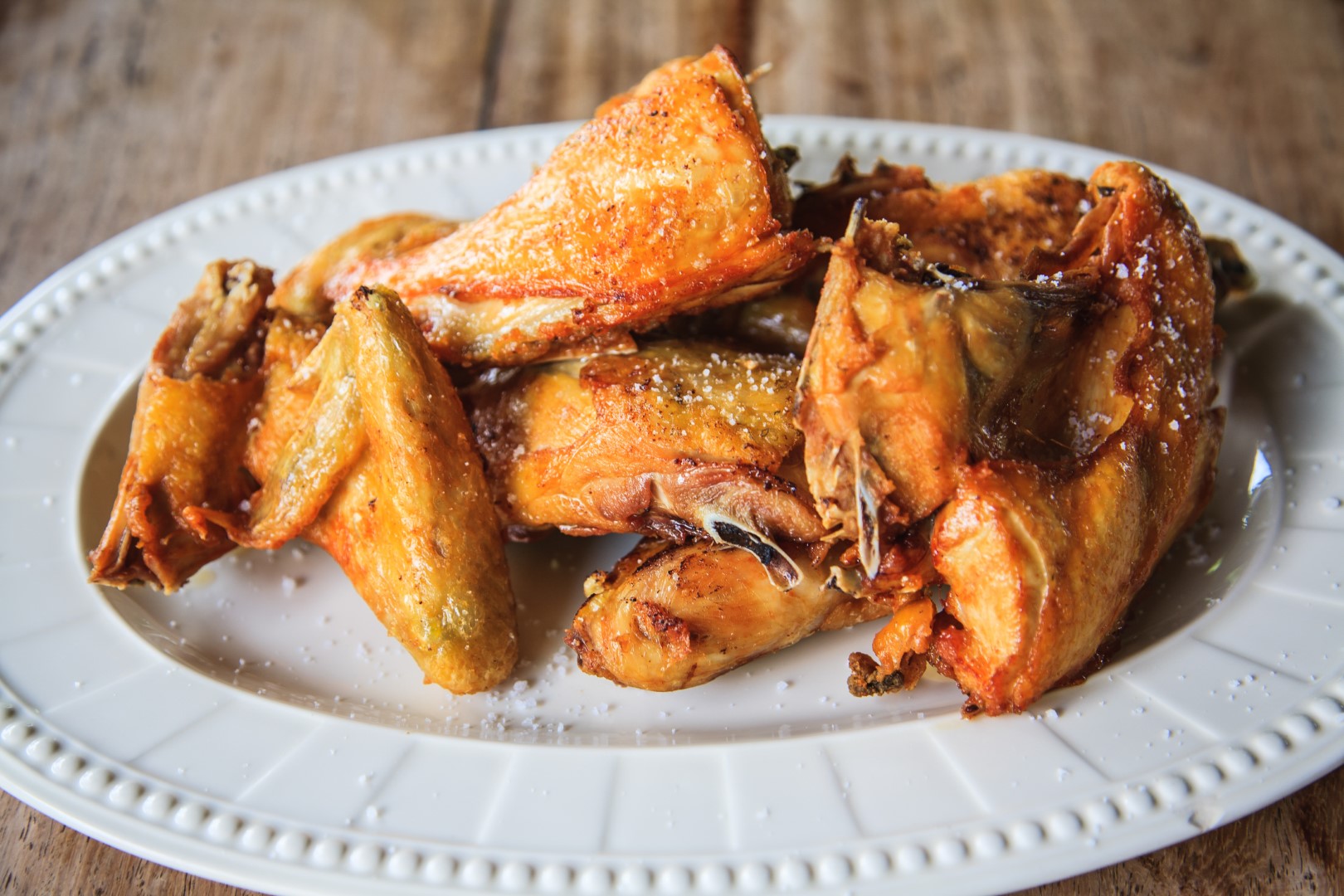 Fried chicken is the perfect food to serve for Superbowl Sunday. Here is an easy to make recipe for fried chicken that is oven fried in extra virgin olive oil. This one-pan recipe results in juicy chicken with flavorful, crispy skin.
We used a whole chicken cut into pieces, but you can make this with all wings or drumsticks. Just make sure that you use pieces of chicken with the skin on.
Ingredients
4 pounds bone in chicken parts with skin
1/2 cup all-purpose flour
2 teaspoons smoked paprika
2 teaspoons kosher salt
1 teaspoon white pepper
1 teaspoon granulated garlic
1/2 cup extra virgin olive oil
Instructions
Season the chicken pieces with kosher salt
Preheat oven to 425

°

F
In a large bowl, or zip top bag, mix together the dry ingredients
Pour 1/2 cup of extra virgin olive oil in the bottom of a sheet pan.
Coat the chicken in the flour mixture one piece at a time. We found it easiest to use a zip top bag and shaking the bag gently to coat the pieces.
Put the coated chicken pieces on the sheet pan, skin side down.
Put chicken in oven and bake for 30 minutes, turning 1/2 way through.
Use a thermometer to test to make sure the chicken is cooked through (at least 165

°

F).
Sprinkle with salt and serve.
Is it safe to bake at high temperatures with olive oil?
Some readers may wonder if it is safe to bake with olive oil at 425° F because the the smoke point of extra virgin olive oil is around 410° F. The answer is yes, it is safe to bake with olive oil -- even at higher temperatures. The reason why is that the cooking oil does not actually reach 425° F. The combined temperature of the food and oil stays well below the smoke point. Watch the below video for a demonstration.
Furthermore, recent research has shown that smoke point should not be an important factor when choosing a cooking oil. Oxidative stability is the more important factor to consider. Extra virgin olive oil has been shown to be the most stable cooking oil under heat, outperforming oils with a higher smoking point.
We hope you enjoy this delicious oven fried chicken recipe made with healthy extra virgin olive oil.