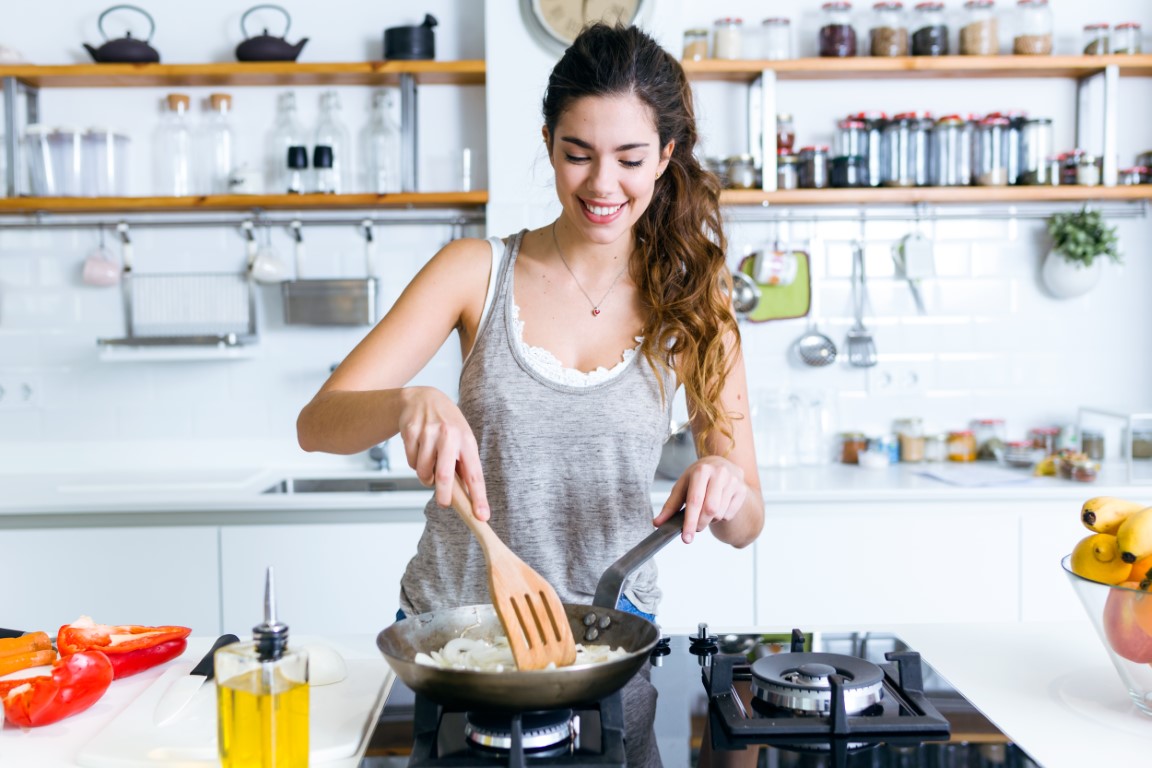 America is in the midst of a new home-cooking boom. According to a recent survey [1], 54% of participants reported cooking at home more in 2020. A full 75% of respondents said that they feel more confident about their cooking skills and 51% say that they will continue to cook at home more frequently in the months to come. Let the olive oil flow!
In the recent Annual Meeting of the North American Olive Oil Association, Chad Barnett, Sr. VP of Acosta's Business Intelligence division shared research of pandemic shopping trends of 30,000 consumers in the United States. Acosta's findings portend strong future growth for the olive oil industry. Data compiled by the Association of Food Industries (of which NAOOA is a section) show that olive oil imports for the last twelve months reached a record 410,000 metric tons – an increase of 16% over the prior year. And NAOOA members' retail data show olive oil category sales are up 23.5% in volume over last year.
One reason olive oil is doing so well may be Acosta's finding that consumers' buying habits during the pandemic are being driven more than ever by health and wellness concerns, which we know has always been the primary driver of olive oil sales. Indeed, Mr. Barnett reported he anticipates olive oil sales for 2020 will end the year up 20% to 25% over 2019. In the midst of a global pandemic, this is encouraging health news, as studies [2] have shown that people who prepare meals at home tend to eat healthier and consume fewer calories than those who cook less.
Further, the well regarded Mediterranean diet, loaded with olive oil, has been identified as the "healthiest human diet" in a paper released last month by the Journal of American Cardiology. Dr. James O'Keefe, a noted cardiology researcher who authored the study, notes that "[f]atty fish and other types of seafood, along with 'unrestricted' helpings of extra-virgin olive oil," [3] are integral to the plan and recommends it as a healthy dietary pattern to follow in these uncertain times. If you are one of the millions who have turned up the heat on your cooking routine, here are some key things to keep in mind when cooking with olive oil.
Keep a Variety of Olive Oils in Your Pantry
Selecting the right olive oil may seem like a daunting task, but it's not. Looking for maximum flavor and healthy benefits? Choose an extra virgin olive, loaded with flavor and potentially beneficial phytonutrients called polyphenols, that fits your budget. For cooking applications you may want to have two EVOO bottles on hand--one less expensive one for cooking, and another specialty bottle for drizzling or dipping. Looking to get the health benefits from olive oil's oleic acid composition, but not sure if you want to add flavor to your dishes? Then pick up olive oil or light tasting olive oil. Either way, olive oil has got you covered. Check out our handy guide to buying olive oil.
Finish an Opened Bottle Within 3 Months
Olive oil (actually any cooking oil), unlike wine, does not improve with age. When properly sealed and stored, olive oil generally has a shelf life of maximum two years from bottling. Once you open the bottle, however, olive oil gets exposed to air it will begin to oxidize more rapidly, and lose its flavors. If you are still working through a bottle you purchased back in the spring, it is likely time to swap it out for a fresh one (and next time consider using it more liberally, or buy a smaller bottle). Pro tip: use a sharpie and write the date on the bottle as a reminder of when you opened it.
Store Olive Oil Away from Heat and Light
Storing your olive oil properly is key to keeping it as fresh as possible. Oil does best in cool dark, places. If you are have your oil next to the range or in a cabinet directly above it, make the switch and place it in a cabinet away from the stove. Store olive oil like a pro with these tips.
Cook With Olive Oil, Even Under "High Heat"
Find Creative Uses for Olive Oil
You can make the most out of olive oil that is past its prime by using it as an out-of-the-box solution for a variety of household tasks. From paint remover, to furniture polish and even a tool protectant, here are a dozen great ways to use olive oil around the house.
Looking for a few great recipes to try with that new bottle of oil? Check out some of our favorite dishes for the fall season. The cooler weather and longer evenings make it the perfect time of year to dig into savory dishes with seasonal produce and extra virgin olive oil.
For further reading on how the pandemic has influenced the olive oil market, read How the Pandemic Has Changed the U.S. Olive Oil Market on LinkedIn and follow us on LinkedIn.
[2] Johns Hopkins Center for a Livable Future
[3] Journal of American Cardiology