Welcome to the olive harvest season! All over Europe, farmers are tending the next crop of olives and we are just weeks away from the first pressing of olive oil in the Northern Hemisphere. The cooler temps and longer evenings also make it the perfect time of year to dig into savory dishes with seasonal produce and extra virgin olive oil. From quick and easy Roasted Acorn Squash, to the decadent Roasted Pears with Blue Cheese, each of these recipes uses EVOO to bring out the robust flavors of fall.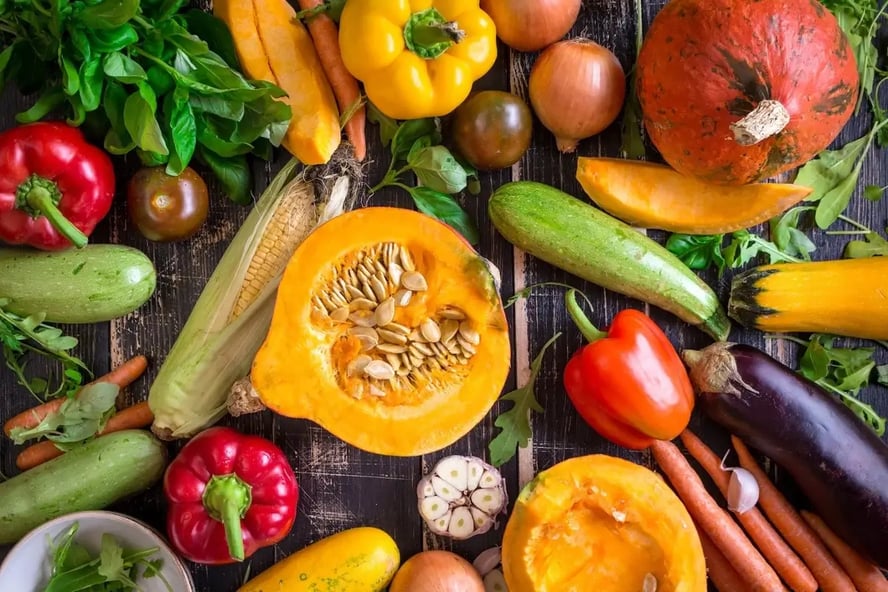 Roasted Acorn Squash
Packed with vitamins, antioxidants and healthy monounsaturated fats from the EVOO, this winter squash is easily adaptable to savory and sweet versions. Once you get the basics down, the sky is the limit in terms of options.
Ingredients
1-2 acorn squash
4 tablespoons olive oil
Salt and pepper to taste
Instructions
Preheat the oven to 400°F. (If you are concerned about cooking with olive oil on high heat, check out these resources!)
Line a baking sheet with parchment paper
Rinse squash thoroughly and cut each squash in half lengthwise from the stem to the bottom. No need to cut through the stem, just crack the squash in half and it will separate
Remove seeds and pulp with a spoon
Coat the inside liberally with EVOO and sprinkle with salt and pepper
Place in preheated oven and bake for 50-60 minutes
Test with fork before removing from heat; the squash should be very tender
Serve immediately or store in fridge for 1-2 days
- Adapted from Rachel Cooks
---
Balsamic Roasted Root Vegetables
This roots-only recipe has a complex flavor profile with both savory and spicy elements. It works great as a side dish next to beef or game meats and can be adapted into a brunch-time staple with the addition of and egg or two on top.
Ingredients
1 rutabaga peeled and chopped into ½" cubes
1 turnip chopped into ½" cubes
1 medium-sized sweet potato chopped into ½" cubes
1 medium-sized yam chopped into ½" cubes
4 carrots peeled and chopped into ¼" rounds
1 yellow onion diced
6 cloves garlic minced
2 tablespoons grated ginger
4 tablespoons olive oil
3 tablespoons balsamic vinegar
2 teaspoons ground cumin
2 tsp dried oregano
1 teaspoon salt to taste
Instructions
Preheat oven to 375° F.
Put all chopped veggies into a large, deep casserole dish (you may need a second dish).
Whisk together the olive oil, balsamic vinegar and grated ginger.
Pour over the vegetables and mix using a large wooden spoon.
Sprinkle the seasonings and sea salt over the veggies and mix again until everything is coated.
Bake 25 minutes and then remove casserole dish from oven to stir the vegetables well.
Increase heat to 415 degrees, place vegetables back in the oven and bake an additional 20 to 35 minutes until the roots are cooked through.
Remove from oven and serve.
- From the Roasted Root
---
Roasted Pears with Blue Cheese
This simple, yet decadent recipe features robust flavors that is sure to impress your holiday guests. Pair them up with a full-bodied red wine to help bring out the nuances of the pears and cheese.
Ingredients
4 pears, halved, but not peeled or cored
Extra virgin olive oil
1/4 bunch fresh thyme
Salt and freshly ground black pepper
1/4 cup crumbled good-quality blue cheese
1/4 cup walnut pieces
Instructions
Preheat the oven to 375° F.
Arrange the pears, cut sides up, on a baking sheet.
Drizzle with olive oil and sprinkle with salt and pepper.
Remove leaves from the thyme branches and sprinkle over the pears.
Put the baking sheet in the oven and bake 20 minutes.
After 20 minutes, remove the baking sheet from the oven and spoon a generous teaspoon of crumbled cheese in the center of each pear half.
Return the pears to the oven and roast until they are tender and the cheese is soft, about 10 more minutes.
Place walnuts on an additional baking sheet and toast in the oven until golden brown, approximately 5 minutes. Remove from oven and let cool.
Once the walnuts are cool, dice finely.
Remove cooked pears from oven and transfer them to a serving plate.
Sprinkle the toasted walnuts over the top and serve immediately.
- From Tyler Florence, for The Food Network