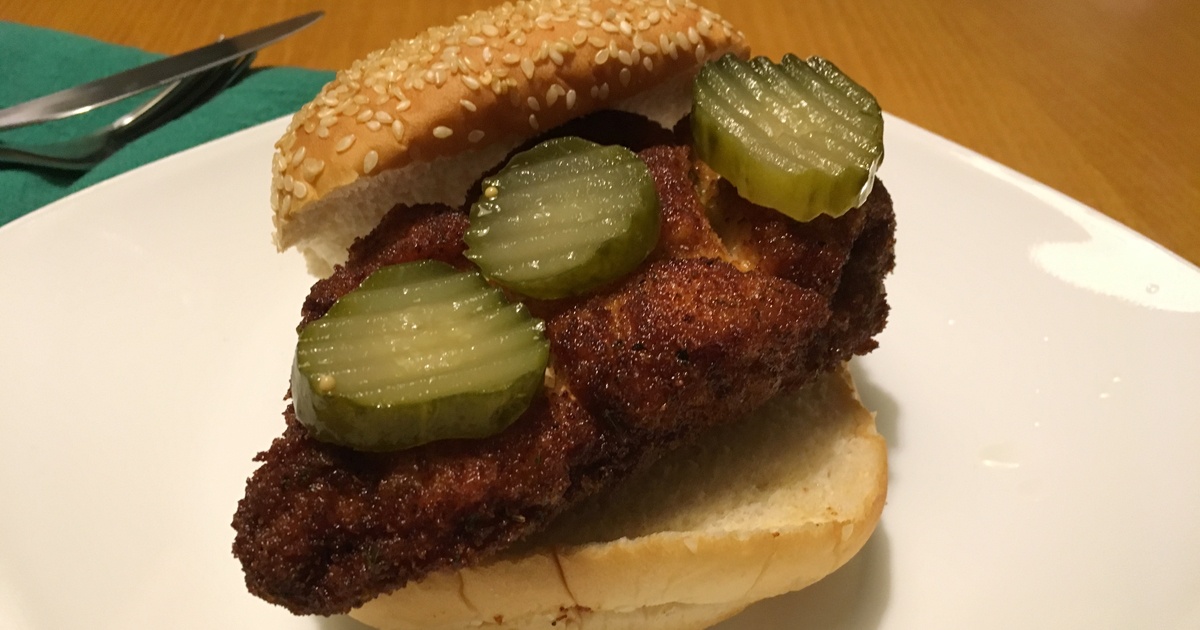 Hot chicken is an iconic dish from Nashville, TN that was first served at Prince's Hot Chicken Shack. Their recipe is a secret but we made a version at home, with olive oil.
After watching the below video, we were inspired to try making a Nashville Hot Chicken sandwich at home. However, we wanted to fry the chicken and make the sauce with extra virgin olive oil.
Here is our modified version of the recipe, made with EVOO.
Ingredients:
4 chicken breasts or boneless thighs
2 eggs
1 cup whole milk
2 cups Italian bread crumbs
Salt
Extra virgin olive oil for frying
Instructions:
Score the chicken as shown in the video above. This was a great tip; it sped up the cooking time significantly.
Season the chicken breasts with salt
Beat 2 eggs and 1 cup of milk
Dip the chicken in the egg/milk mix and dredge in breadcrumbs
Fry in extra virgin olive oil heated to 300

°

. We shallow fried in about 1 inch of oil and flipped halfway through.
When cooked through, remove from oil and drain on a wire rack.
Prepare the sauce:
Mix the following ingredients together
1/2 cup hot extra virgin olive oil (you can use the drained frying oil)
1 tablespoon garlic powder
1 tablespoon cayenne (adjust the amount of cayenne as needed)
1 tablespoon brown sugar
1 tablespoon paprika
Pour over the chicken. Serve on a bun with bread and butter pickles on the side.
The EVOO version turned out great. The chicken was perfectly crispy and browned nicely. We didn't feel that it was greasy at all. The sauce had an olive oil taste, which we enjoyed. If you are looking to lower the cost of the frying oil, you could substitute with olive oil or light olive oil, which has a lighter taste and is less costly.
For more information on frying with olive oil, check out our resources:
Why olive oil is the best for frying
What happens when you heat olive oil
Does olive oil lose its health benefits when heated?
10 tips for reusing frying oil