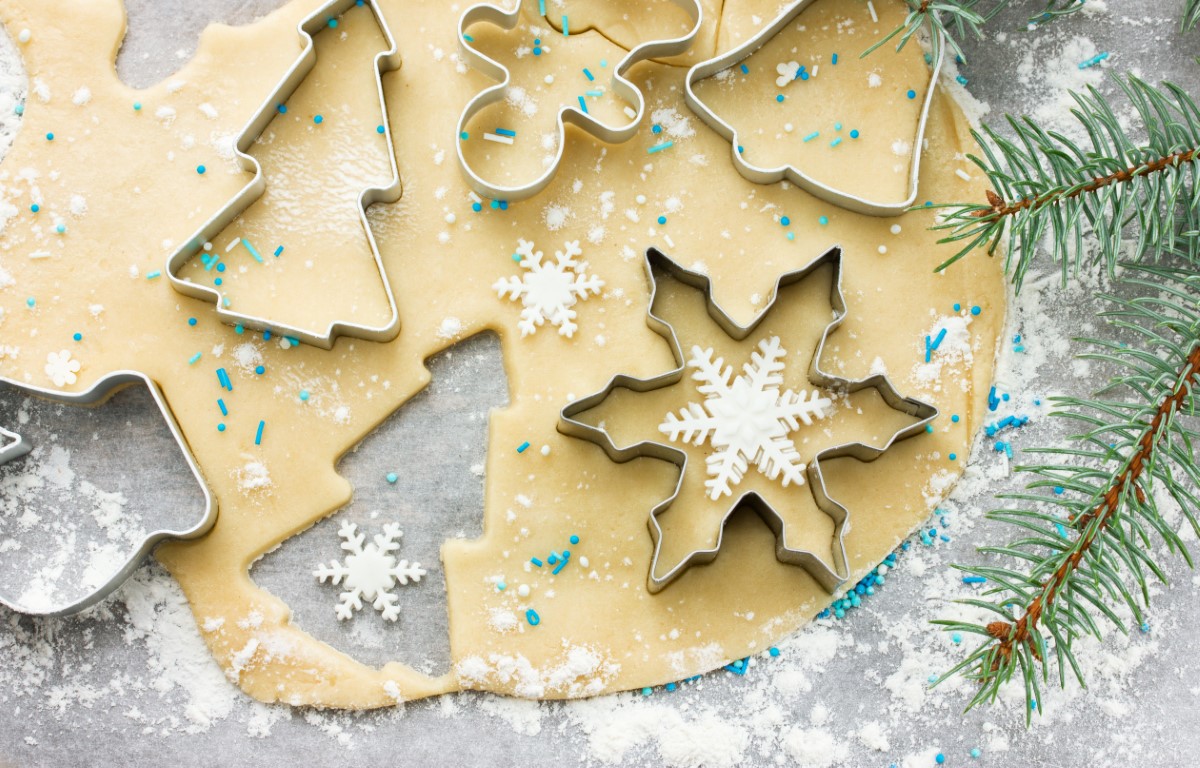 Sweet treats made with olive oil are a staple of many holiday festivities, from the first night of Hanukkah, through the last day of Kwanzaa. People all over the world enjoy cookies, cakes, pies and pastries made with "liquid gold". We have rounded up a few of our favorites here.
Celebrating Hanukkah with Sufganiyot
Olive oil is an integral part of Hanukkah; a holiday that commemorates the re-dedication of the Holy Temple in Jerusalem in 165 B.C. A small quantity of oil used to light the Temple's menorah miraculously burned for eight days. Given that olive oil was and remains the predominant cooking oil used in the region, the oil used in the Temple's menorah was most certainly olive oil. As Dr. Rafael Frankel explains, "In the Hebrew Bible, in the Old Testament in several places it speaks of pure-beaten olive oil for the light."
One of the most popular holiday desserts in Israel is Sufganiyot, a delicious fruit filled and deep fried jelly donut.
Ingredients
1 package (2¼ tsp) Active Dry Yeast

½ cup milk
¼ cup water
¼ cup olive oil, plus larger quantity of olive oil for frying
1 egg
1 tsp kosher salt
¼ cup granulated sugar
3 cups bread flour (15 oz by weight)
Confectioners sugar for sprinkling
Strawberry jelly or seedless jam for filling
Instructions:
Combine milk, water and oil in a sauce pan; heat to 120-130°F.

Combine yeast, 1 cup bread flour, salt and sugar in medium size bowl.

Once the liquid mixture has reached the correct temperature, remove from heat and whisk in the egg. Add to the dry mixture.

Stir in the remaining flour to make a stiff dough.
Knead on floured surface for 5-7 minutes until smooth and elastic, adding additional flour if necessary.
Note: If you have access to a food processor, bread machine or stand mixer, just add the wet ingredients to the dry all at once and let the machine do the work for you.
Form a ball with the dough.
Rub olive oil in a large bowl and place the dough in the bowl to rise. Cover with plastic wrap or a tea towel and put in a warm spot and allow to rise for 1 hour. The dough should double in size.
Waiting for Santa With Olive Oil Sugar Cookies
Many children will head to bed on Christmas Eve only AFTER they set out a tray of cookies and milk for Santa. These elegant olive oil sugar cookies, trimmed in pistachio glaze, are sure to be a hit with the all your holiday guests.
Ingredients:
For the cookies:
1/3 cup (1 1/2 oz./45 g) shelled pistachios
2 cups (10 oz./315 g) all-purpose flour, plus more for dusting
1/2 tsp. baking soda
1/2 tsp. salt
4 Tbs. (1/2 stick) (2 oz./60 g) unsalted butter, at room temperature
3/4 cup (6 oz./185 g) granulated sugar
1/4 cup (1 oz./30 g) confectioners' sugar
1/2 cup (4 fl. oz./125 ml) good-quality extra-virgin olive oil
1 egg
1 tsp. vanilla extract
For the glaze and garnish:
1 cup (4 oz./125 g) confectioners' sugar
Grated zest of 1 lemon
2 tsp. fresh lemon juice, plus more as needed
1 to 2 Tbs. heavy cream
1/2 cup (2 1/2 oz./75 g) chopped pistachios
Instructions
To make the cookies, in a food processor fitted with the steel blade, pulse the pistachios until finely ground. Add the flour, baking soda and salt and pulse until fully combined. Set aside.
In the bowl of an electric mixer fitted with the flat beater, beat the butter on medium speed until creamy, about 2 minutes. Add the granulated sugar and confectioners' sugar and beat until light and fluffy, 2 to 3 minutes. Reduce the speed to low, add the olive oil and beat until combined, about 30 seconds. Stop the mixer and scrape down the sides of the bowl. Add the egg and vanilla and beat on low speed until combined, about 30 seconds. Add the flour mixture and beat until combined, about 1 minute.
Gather the dough, shape it into a disk, wrap with plastic wrap and refrigerate for at least 2 hours and up to 1 day.
Preheat an oven to 350°F (180°C). Line 2 baking sheets with parchment paper.
On a lightly floured work surface, roll out the dough about 1/4 inch (6 mm) thick. Using the desired-shaped cookie cutter, cut out the cookies. (Any dough scraps can be rewrapped and refrigerated while the cookies are baking.) Gently slide a metal spatula underneath each cookie and transfer to the prepared baking sheets, spacing them about 2 inches (5 cm) apart. Put the first baking sheet in the freezer for 10 minutes. After the dough has chilled, put the first baking sheet in the oven, then put the second sheet in the freezer. Repeat with the leftover dough.
Bake the cookies 1 sheet at a time until they are just beginning to brown on the edges, 10 to 12 minutes. Transfer the baking sheet to a wire rack and let the cookies cool completely on the sheet.
To make the glaze, in a bowl, whisk together the confectioners' sugar, lemon zest and 2 tsp. lemon juice until smooth. Add the cream 1 Tbs. at a time, whisking until a thin glaze forms. (If the glaze still seems too thick, add more lemon juice, 1 tsp. at a time, whisking after each addition.) Spread the glaze over the cookies and sprinkle with the chopped pistachios. Makes 18 to 24 cookies.
Sweet Treats For Family Celebrations During Kwanzaa
A week-long celebration, Kwanzaa commemorates the rich cultural roots of the people of the African diaspora, through 7 core principles. The week culminates with a feast, and these Olive Oil, Almond and Lemon Cookies are sure to be a crowd sweets for .
Olive Oil, Almond and Lemon Cookies
Ingredients:
1 3/4 cups flour
1 cup almond flour
3/4 cup coarsely ground raw almonds
1/2 teaspoon kosher salt
3/4 teaspoon baking soda
1/2 teaspoon baking powder
3/4 cup extra virgin olive oil
1 cup sugar
2 tablespoons unsweetened vanilla almond milk (or regular milk)
1/8 teaspoon almond extract
Zest and juice of 1 lemon
Powdered sugar
Directions:
1. Preheat the oven to 350 degrees F. Line two baking sheets with parchment paper.
2. Whisk together the flour, almond flour, ground almonds, salt, baking soda and baking powder in a medium bowl. In a separate large bowl, whisk the olive oil, sugar, almond milk, almond extract, lemon zest and lemon juice.
3. Fold the dry ingredients into the wet ingredients until well combined. For each cookie, scoop roughly two teaspoons of dough into your hands and shape into uniform balls. Bake for 10-11 minutes or until the bottoms are golden brown. Remove from the oven and cool for 2-3 minutes before sliding the cookies onto a cooling rack.
4. Dust the cookies with powdered sugar, and cool completely. Dust with more sugar if desired. Store in an airtight container. Makes 2.5-3 dozen cookies.
Recipe adapted from Duo Dishes and Kwanzaa Culinarians