The olive oil section of the supermarket can be a daunting place. There are often dozens of choices and lots of confusing terminology. How do you know what to pick? We are here to help you decide!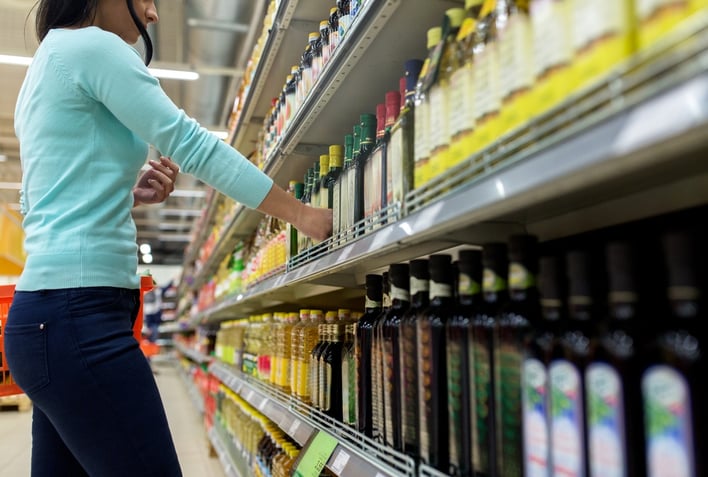 The best way to pick an olive oil is to think about how you will use your olive oil.
Everyday olive oil - We suggest an economical extra virgin olive oil. This kind of oil is good for sautéing veggies, frying eggs, roasting vegetables, browning meat and keeping food from sticking to your pan. Buy a size that you will finish in a couple of months.
Deep frying or shallow frying - For foods that require a lot of oil, we recommend olive oil (often labeled classic or pure olive oil). It has many of the same health benefits of extra virgin olive oil at a lower cost.
Salad dressings - salad dressings often call for neutral tasting oil. For dressings, we recommend extra light tasting olive oil. It has a neutral taste and many of the same health benefits of extra virgin olive oil. The exception is simple vinaigrettes which often taste better with extra virgin olive oil.
Baking - you may need to experiment with olive oil in baking. Some baked goods taste even better with extra virgin olive oil, but if you want avoid the taste of olive oil in your baked goods, use extra light tasting olive oil.
Finishing dishes/drizzling/raw use - drizzle a premium extra virgin olive oil on your dishes. These special olive oils have extra flavor and are often very peppery and robust. There are many award winning olive oils that you can explore for drizzling on both sweet and savory foods.
Flavored/infused olive oils - Many specialty olive oil shops sell olive oils infused with flavors such as citrus, herbs, garlic or even bacon. These olive oils can be used as finishing oil but can also be used as a recipe shortcut. For instance, try tossing pasta with garlic flavored olive oil or dressing your salad with a citrus infused olive oil.
Overwhelmed?
If you still feel overwhelmed, we recommend using extra virgin olive oil for everything. Extra virgin olive oil can stand up to the heat of frying, sautéing, baking and roasting. Heating extra virgin olive oil will mellow the flavor of the olive oil. (Trust us, your food will not taste like olives.) And of course extra virgin olive oil is perfect for dipping bread and drizzling on finished dishes.
Want to know more about how to buy a good olive oil. Read our tips.