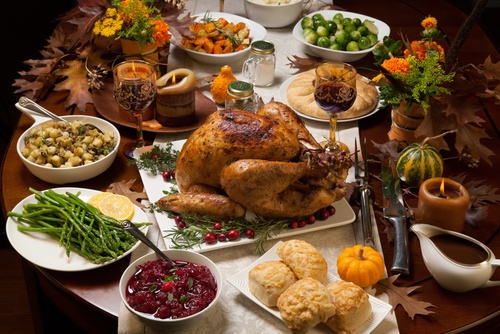 Traditional Thanksgiving dishes are often loaded with butter. This year, incorporate some heart-healthy olive oil into your Thanksgiving menu.
The sides
Rather than preparing your side dishes with butter, try olive oil instead. Olive oil can be substituted for butter when sauteeing vegetables such as green beans. Olive oil is also a good choice for roasting vegetables such as brussels sprouts. You can even use olive oil for gravy and for mashed potatoes. For a twist on a Thanksgiving classic, check out this recipe for Garlic EVOO Smashed Potatoes & Parsnips or the video below for lemony green beans with frizzled leeks.
The main course
Olive oil performs well in temperatures needed for roasting in the oven and can help you cook a delicious turkey. If you have a flavor injector, you can inject extra virgin olive oil right into the breast meat for more flavorful and juicy turkey breast. If you do not have an injector, you can gently lift the skin and rub olive oil under the skin. Make sure that you also coat the entire bird with olive oil for crisp, brown skin.
Dessert
Don't forget olive oil during dessert. A fruity extra virgin olive oil goes great with sweets. Here are some recipes.
In conclusion, think twice before reaching for butter this Thanksgiving and give olive oil a try instead. It is heart healthy and delicious.