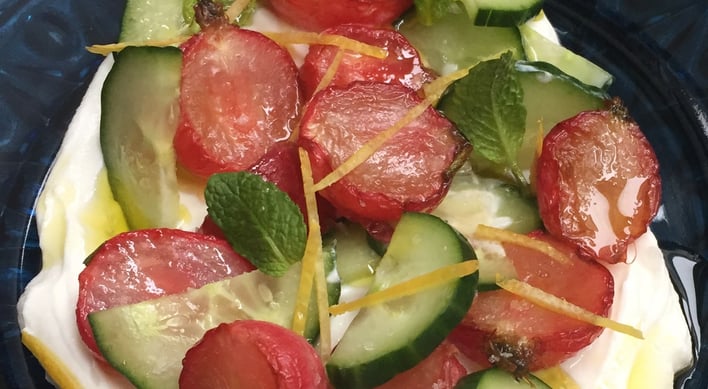 Instead of serving yogurt with fruit or sweet ingredients, try it with savory veggies and herbs.
This recipe, provided by registered dietitian Ellie Krieger, uses two types of olive oil. Ellie recommends pure olive oil (also known as classic, or just olive oil) to roast the vegetables and extra virgin olive oil to finish the dish.
This flavorful recipe is a great starter to a healthy meal or a healthy afternoon snack.
1 bunch medium radishes (about 10) trimmed, with ½ inch of the stem left on, and halved

1 tablespoon olive oil
1/8 teaspoon fine salt
1 lemon
1 1/3 cup plain Greek yogurt (low-fat or full-fat)
¼ large English cucumber, thinly sliced into half moons
4 teaspoons extra-virgin olive oil
20 small or 10 large fresh mint leaves, torn if large
¼ teaspoon coarse sea salt, plus more to taste
Preheat the oven to 450 degrees.
Place the radishes in an 8 x 8-inch baking dish and toss with the olive oil (aka classic or pure) and fine salt to coat. Place in the oven and roast until tender and browned, tossing once or twice, about 15 minutes. Allow to cool to room temperature.
Meanwhile use a vegetable peeler to remove three strips of zest from the lemon, each about 2-inch long and ½-inch wide. Be careful not to get any of the white pith. Slice each strip lengthwise as thinly as possible. Squeeze 1 tablespoon of lemon juice from the lemon and reserve the rest for another use. Drizzle the radishes with the lemon juice.
Spread 1/3 cup of the yogurt onto each of four small serving plates OR Place 1/3 cup of yogurt into each of four small serving bowls. Scatter the radishes and cucumber slices on top, then drizzle each with a teaspoon of extra-virgin olive oil. Garnish each with strips of lemon zest and mint leaves, then sprinkle with the course sea salt.
Makes 4 servings
Serving Size: 1 plate or bowl
About the Author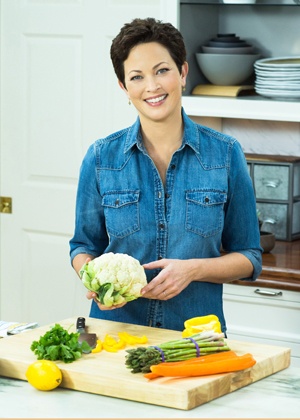 Host and executive producer of the Public Television cooking series "Ellie's Real Good Food," and well known as the host of Food Network's hit show "Healthy Appetite," Ellie Krieger is the leading go-to nutritionist in the media today, helping people find the sweet spot where delicious and healthy meet.
She is a New York Times bestselling, James Beard Foundation and IACP award winning author of five cookbooks. Her most recent is You Have it Made: Delicious, Healthy Do-Ahead Meals (Jan 2016). Ellie is a weekly columnist for The Washington Post and she has been a columnist for Fine Cooking, Food Network magazine and USA Today. Ellie speaks regularly at event around the country, appears on national television shows, such as Today, Good Morning America, and The Wendy Williams Show, and has been featured in magazines like Better Homes and Gardens, People, and Self, to name a few.
A registered dietitian who earned her bachelors of science in clinical nutrition from Cornell and her master's in nutrition education from Teacher's College Columbia University, Ellie has been at the forefront of First Lady Michelle Obama's "Let's Move" campaign from the beginning when Mrs. Obama's team invited her to head up a nutrition education initiative at the "Healthy Kids Fair" on the Whitehouse lawn.
Meet Ellie Krieger at the Olive Oil Conference where she will present "How Olive Oil Compliments Food and Health" with a cooking demonstration.