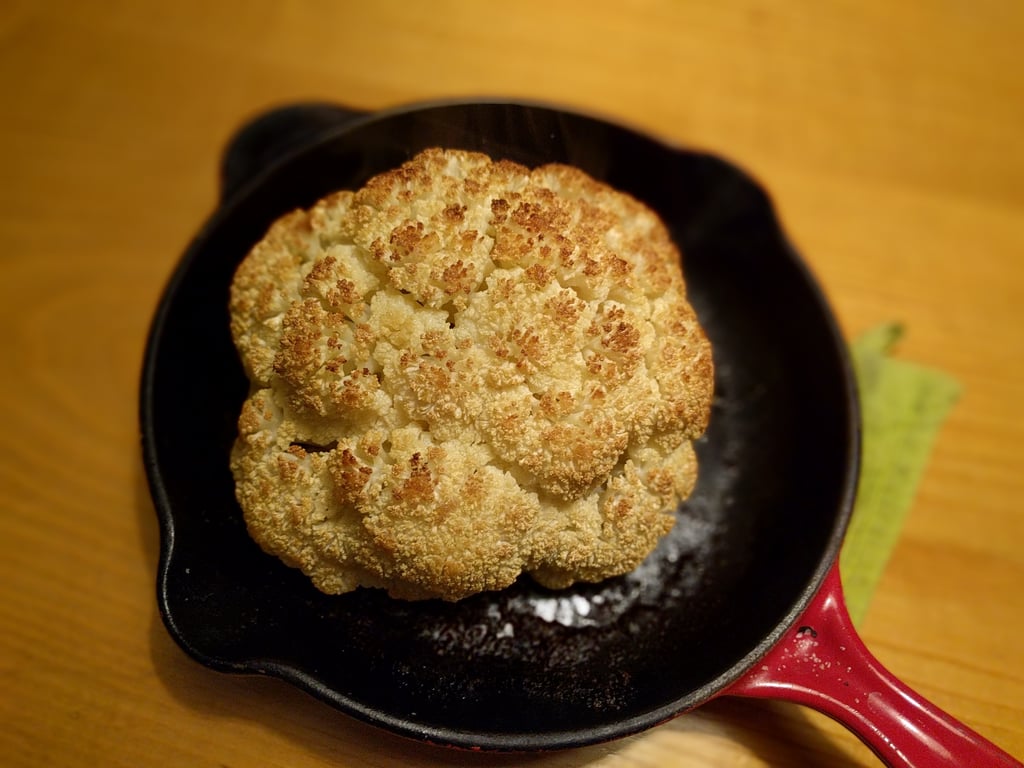 Whole roasted cauliflower has been appearing on trendy restaurant menus. Gorgeously crusted on the outside, tender on the inside, this visually striking preparation of cauliflower is popular among chefs for a host of reasons: it's budget-friendly, ridiculously simple to make, and guaranteed to impress guests either as a main dish or a side.
This striking dish has become a modern classic, as chefs around the world are working out new ways to push vegetables into the center of the plate. It is also surprisingly easy to make.
Ingredients
One head of cauliflower

1/2 cup of extra-virgin olive oil

Kosher salt
Instructions
Pre-heat the oven to 375°F and place a rack in the middle position

Wash and dry the cauliflower head. Remove the leaves. Flip over and remove the stem by cutting a cone into the bottom of the cauliflower with a paring knife. Do not remove too much of the stem or the florets will start to separate.
Rub all over with olive oil and salt. Be generous with both!
Place the cauliflower in a cast iron frying pan or an ovenproof dish. Tent it with aluminum foil to retain the heat and steam.
Cook for 30 minutes, covered.
After 30 minutes, remove the foil, drizzle with more olive oil and then roast for 1 hour.
Test for doneness by piercing it with a knife. You should not meet any resistance.
Remove when the cauliflower is nicely browned on the outside.
Transfer to a dish and drizzle with more olive oil to finish.
To serve, carve it at the table in wedges. The New York Times has a recipe for an almond herb sauce, but to be honest, this dish is delicious enough without it.
Enjoy!
Thanks to Non Nom Paleo for the recommendation to cover the cauliflower for the first 30 minutes. Doing so cut the cooking time down by 1 hour.