These potatoes are roasted in the oven and then dressed with a sublime lemon and olive oil emulsion. They are so good, they could be eaten as a main dish. But we like them with roasted chicken.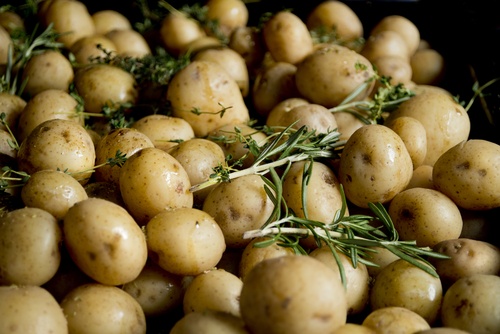 Serves: 6
Ingredients
2 lbs baby Yukon gold, fingerling, or tricolor potatoes, scrubbed
1 cup plus 2 tablespoons extra virgin olive oil
1⁄2 teaspoon kosher salt, plus more to taste
Freshly ground black pepper, to taste
6 cloves garlic, unpeeled, lightly smashed
2 lemons, quartered
Instructions:
Heat oven to 400° F.
Toss potatoes, 1⁄4 cup oil, salt, pepper, and garlic on a foil-lined baking sheet.
Roast, tossing occasionally, until browned and tender, about 35 minutes; transfer to a serving bowl and keep warm.
Purée remaining oil, 1⁄2 teaspoon salt, and the lemons(rind and all) in a blender until smooth. Pour through a fine-mesh strainer over potatoes; toss to combine.
This sauce is so good, you can make extra to pour over chicken, fish, shrimp, rice or noodles. You can also add it to marinades.
For the entire recipe visit SAVEUR