Spice up warm-weather desserts with this savory take on ice cream and fruit with a kick of sriracha! Experiment with extra virgin olive oils that have different flavor profiles to find what you like best.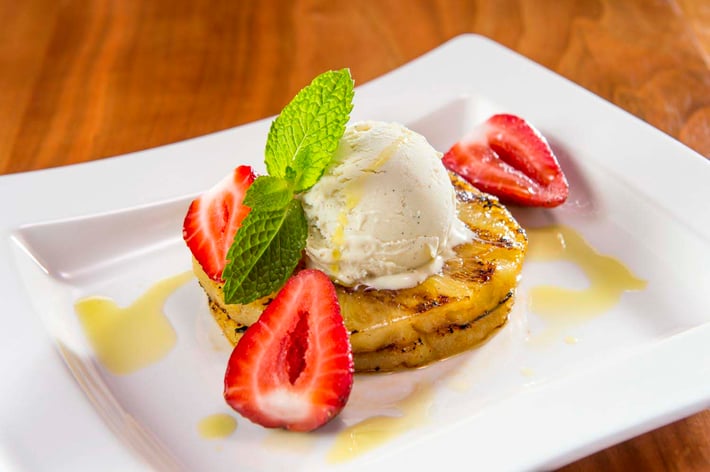 Serves 6
Ingredients for Olive Oil Ice Cream
12 ounces Heavy Cream
12 ounces Milk
1 Vanilla Bean, split and scraped
2 pinches Ground Cinnamon
½ cup Egg Yolks
½ to 2/3 cup Honey
2/3 cup Extra Virgin Olive Oil, a delicate, fruity flavor profile is recommended
Place heavy cream, vanilla, cinnamon and milk in a saucepot and scald. Combine yolks and honey in a bowl with a whip. Temper honey and yolk mixture with hot milk. Pour the tempered mixture back into the saucepot and cook until it coats the back of a spoon. Don't boil! Strain mixture and cool. Stir in olive oil. Cool and freeze in ice cream machine.
Ingredients for Ice Cream with Grilled Pineapple
1 Golden Pineapple
¼ cup Extra Virgin Olive Oil
3 Tablespoons Honey
2 teaspoons Sriracha Chili Sauce
½ teaspoon Kosher Salt
As needed, Mint Sprigs
As needed, Sliced Strawberries
As needed, Scoops of Olive Oil Ice Cream
Make the pineapple marinade by combining extra virgin olive oil, salt, honey, and Sriracha. Set aside. Cut the top and bottom off the pineapple and remove the outer skin. Turn the pineapple on its side and cut even slices about 3/8 inch thick leaving the core in. Place the cleaned pineapple slices in a large zip lock bag, pour the marinade over them and gently turn the bag over and over to distribute the marinade. Marinate overnight or at least 4 hours. Preheat the charcoal or gas grill for direct grilling. Take a sharp round cutter and cut out the core before grilling. This is optional – you can eat the core and it is easier to grill with it in. Brush the grill grates and wipe with a rag that has been soaked with olive oil. Grill the pineapple on each side about 3 minutes. Transfer the grilled pineapple to a plate and top with a scoop of olive oil ice cream. Garnish with sliced strawberries and mint.