We love the flavorful olive oil aioli used as a base for this jumbo lump crab salad. It makes a fun and tasty appetizer spread on grilled peasant bread and topped with a little lime and jalapeno for a kick!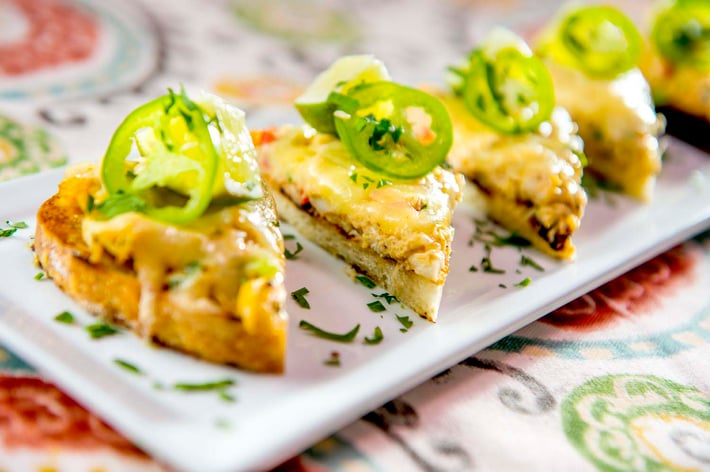 Serves 4
Ingredients
4 Large Slices Peasant Bread Cut ¼ to 3/8 inch thick (Or any type old world crusty bread)
¼ cup Extra Virgin Olive Oil
To taste Salt and Pepper
½ pound Crab Salad (recipe)
6 ounces Shredded Garlic Cheddar (or any sharp cheddar of your liking)
3 Tablespoons Parsley, chiffonade
1 Jalapeno, sliced very thin on mandolin
2 Limes, cut in 12ths
Brush bread generously with extra virgin olive oil and season with salt and pepper. Grill bread until crisp on each side and transfer to a baking sheet. Top the four grilled breads with crab salad. Place grated cheddar on top of the crab salad and bake in the oven until warm and the cheese has melted. Allow the bread to cool slightly and cut into 5 equal portions. Garnish with parsley and jalapeno slices and serve with lime wedges on side.

Ingredients for Crab Salad
1 pound Jumbo Lump Crab
2 Tablespoons Celery, Brunoise (julienne, then dice very small)
2 Tablespoons Red Onion, Brunoise
3 Tablespoons Red Peppers, Brunoise
Pinch Cayenne
1 teaspoon Celery Seed
1 teaspoon Paprika
1 Tablespoon Cilantro
4 Tablespoons Olive Oil Aioli (recipe)
1 teaspoon Dijon
To taste Salt and Pepper
Sort through the crab to make sure there are no shells while trying not to break up the crab too much. Combine all the ingredients together and season to taste. Take care to leave the crab in lumps.
Ingredients for Olive Oil Aioli
1 Large Egg Yolk (can substitute pasteurized egg yolk)
2 Small Garlic Cloves, minced very fine
1 ½ teaspoons Cider Vinegar
1 ½ teaspoons Water
¼ teaspoon Dry Mustard
8 ounces Olive Oil
To taste Lemon Juice
To taste Salt and Pepper
Add egg yolk, garlic, water, vinegar, and dry mustard in bowl. Whisk to combine. Whip in olive oil to emulsify.