Step up your backyard grilling menu with this easy buffet that will taste great hot - or not. Perfect for those drop-in get-togethers on a sunny afternoon!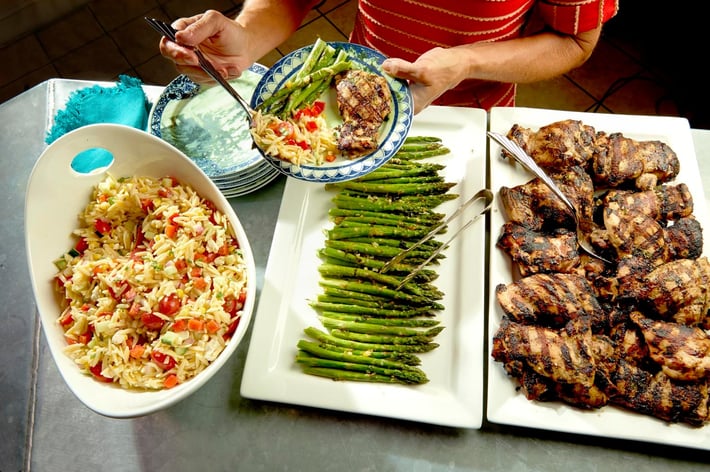 You can prepare the marinade for the chicken and make and chill the orzo salad in advance. Marinate chicken at least 4 hours before grilling. Grilled chicken may be served hot or at room temperature.
Ingredients for Grilled Chicken Thighs
Serves 6
12 Chicken Thighs (skinless and boneless)
1 Tablespoon Honey
½ Tablespoon Garlic, chopped
1 Pinch Red Chili Flake
1 ½ Lemons, zest & juice
1 Pinch Black Pepper
1 teaspoon Kosher Salt
1 Tablespoon Fresh Dill, chopped
1 Tablespoon Fresh Tarragon, chopped
½ cup Extra Virgin Olive Oil
Combine all ingredients in a bowl except the extra virgin olive oil. Whisk in olive oil slowly to emulsify. Marinate chicken at least 4 hours before grilling.
Ingredients for Hearty Orzo Salad
*Serves 6 as a meal or 12 as a side dish
1 pound Uncooked Orzo
¼ cup Extra Virgin Olive Oil
1 ½ cups Sweet Red Pepper, Medium diced
¾ cup Red Onion, Small diced
½ pound Crumbled Feta Cheese
¼ cup Fresh Basil, chiffonade
2 cups Sweet Corn, cooked and cut from the cob
1 ½ cups Cucumber, medium diced
1 ½ Lemons, zest
1 pint Grape Tomatoes, cut in half
¾ teaspoon Kosher Salt
½ Lemon, juiced
¼ teaspoon Black Pepper
Cook orzo in boiling water and a splash of olive oil according to package directions. When the orzo is done, drain. Shock in ice water and drain again. When well drained coat orzo in olive oil. Combine orzo with all other ingredients. Adjust seasonings with salt, pepper and additional olive oil as needed.
Ingredients for Lemon, Basil, Garlic Roasted Asparagus
24 Large Asparagus Stalks, snap the bottoms of individual stalks)
¼ cup Extra Virgin Olive Oil
To taste Salt and Pepper
3 Tablespoons Fresh Basil, finely sliced
1 Lemon, zest and juice
1 Large Garlic Clove, minced
Preheat the oven to 400. Combine basil, lemon zest, garlic, asparagus and olive oil. Place asparagus mixture in one layer on a sheet pan. Season with salt and pepper and roast for 12 to 15 minutes. Squeeze the lemon juice on top and serve.