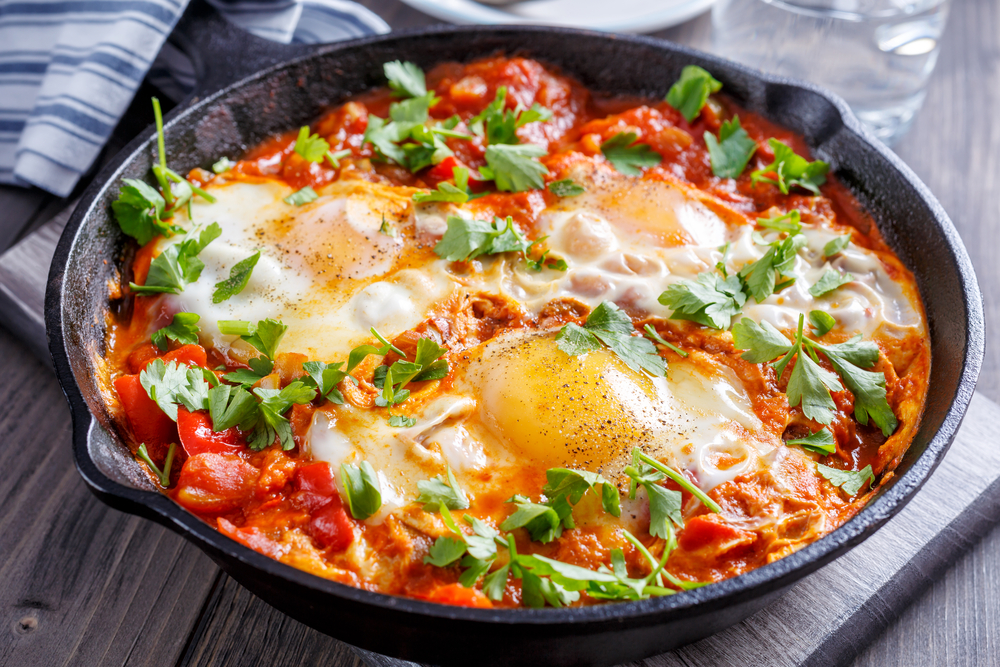 Cooking at home in these unprecedented times does not have to be a challenge. With a few pantry staples and your favorite olive oil, you can easily create healthy meals for the whole family.
Consuming just a few tablespoons of antioxidant-rich EVOO has been shown to reduce inflammation and help boost immune function and each of these recipes delivers the benefits of olive oil along with robust flavors and simple preparation.
Shakshuka
Enjoy a Mediterranean staple at home with Shakshuka. This easy to prepare dish works equally well for breakfast or dinner. It features just a handful of ingredients and can be table ready in 30 minutes or less. As a bonus, this dish is both low carb and vegetarian.
Ingredients:
4 eggs
1 large onion, chopped
2 garlic cloves, crushed
1/4 cup extra virgin olive oil
1/4 cup parsley, chopped
2 roasted red peppers
1 tsp paprika
1 tsp ground cumin
½ tsp chili powder, mild or spicy depending on your taste
1.75 cups of canned plum tomatoes
Pinch of sugar
Directions:
Heat olive oil in a frying pan and then add onion and garlic. Cook until soft and slightly translucent.
Add peppers, spices, tomatoes and sugar and simmer on low heat for 10 minutes. The mixture will gradually become like a stew.
Use a spoon to create 4 pockets on top. Then, crack the eggs into each one.
Cover the pan and cook until the egg whites set and the yolks achieve the desired consistency.
Sprinkle with parsley and serve immediately
Recipe adapted from Olive Magazine
Moroccan Tomato Soup
Spice up a midday meal with Moroccan Tomato Soup. This smoky and delicious twist on traditional tomato soup comes together quickly with canned tomatoes and a few key herbs and spices.
Ingredients:
3 tablespoons extra virgin olive oil
1 small yellow onion, chopped
3 cloves garlic, smashed
kosher salt and black pepper
2 tablespoons fresh thyme leaves
1 teaspoon smoked paprika
1/2 teaspoon ground cumin
2, 28 ounce cans of diced fire roasted tomatoes
2-3 tablespoons harissa sauce
2 teaspoons honey, or real maple syrup
1 14 ounce can of full fat coconut milk
1/4 cup fresh cilantro or basil, chopped
Directions:
Warm the olive oil over medium heat in a large soup pan until it shimmers. Add onions and garlic and season to taste with salt and pepper.
Cook for five minutes; the onion should begin to caramelize. Then add the thyme, paprika, and cumin, cook for another 1-2 minutes.
Stir in the tomatoes, harissa, and honey and continue to cook over medium heat until small bubbles appear.
Add the coconut milk and then remove from heat. Transfer the soup to a blender and puree.
Once the soup is mostly smooth, return the soup to the pot and place over medium heat. Stir in the cilantro and season the soup with salt and pepper.
Thin with more coconut milk, if desired. Cook until warmed though, 5-10 minutes.
Recipe from Half-Baked Harvest
One-Pot Pasta with Chickpeas
Savor the simple and comforting tastes of Victoria Granof's Pasta con Ceci. This dish requires just 5 ingredients and liberal amounts of olive oil cooked in a single pot.
Ingredients:
4 tablespoons extra-virgin olive oil, plus more for drizzling
3 cloves garlic, peeled and smashed
3 tablespoons good tomato paste
1 teaspoon kosher salt, or more to taste
1 1/2 cups cooked chickpeas, or one 15-ounce can, drained and rinsed
1/2 cup uncooked small shape pasta; macaroni or ditalini work well
2 cups boiling water
Crushed red pepper flakes, for serving
Directions:
Using a large sauce pot, heat the olive oil on medium, until it shimmers.
Add the garlic and cook; it will be become aromatic and lightly browned.
Combine the salt and tomato paste and cook on high for 30 seconds to a minute.
Add the chickpeas, pasta, and boiling water.
Reduce heat to low and stir throughly. Simmer until the pasta is cooked to the desired consistency and most of the liquid has been absorbed; approximately 10-15 minutes.
Add red pepper flakes to season and finish off with a healthy drizzle of olive oil
Recipe by Victoria Granof