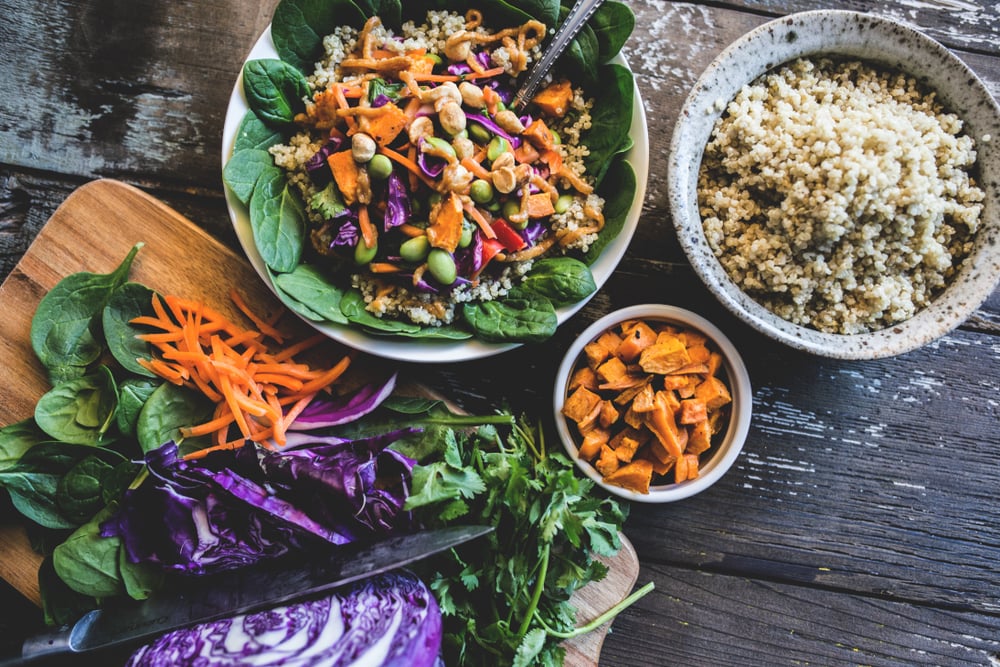 How a Plant-Powered Diet, Drizzled With Olive Oil, Can Supercharge Your Health
According to Food Insight's Annual Food and Health Survey, 51% of people have interest in trying a plant-based diet. Learn more about plant-based diets and how olive oil fits into this healthful eating style.
While you may be familiar with the terms vegetarian and vegan, have you heard about flexitarians? Reducetarians? Both are groups committed to incorporating more plant-based meals into their everyday diets and a recent study published by the Journal of American Heart Association links this plant-powered approach to significantly reduced risks of cardiovascular disease.
Conducted by researchers at Johns Hopkins University over the course of 30 years, the study tracked 12,168 people who consumed one of four different diets and concluded that participants who consumed the most plant-based foods were 16% less likely to develop heart disease or suffer a stroke than the participants who consumed the fewest plants. Hyunju Kim, the lead author and head researcher on the project, said the benefits of consuming a plant-based diet were apparent:
"Our results provide further evidence of reasons for individuals to follow diets relatively higher in plant foods and relatively lower in animal foods (particularly red and processed meats). Specifically, consuming healthy plant foods (fruits, vegetables, whole grains, legumes, and nuts) appears to be important for heart health."
The Mediterranean diet, with its abundant fruit and vegetables and heart-healthy olive oil, is mostly plant-based and also earned the researchers' stamp of approval. Kim said of the diet: "we believe that the Mediterranean diet is a healthy diet. Plant-based diets and Mediterranean diets are similar in that they emphasize the intake of plant foods (fruits, vegetables, whole grains, legumes, nuts), and limit the intake of red and processed meats." Kim went on to add that while the scope of the recent study did not specifically include olive oil, "Olive oil is an important component of the Mediterranean diet, and high olive oil intake has been associated to a lower risk of cardiovascular disease."
Ranked as the "Best Overall Diet" and the "Easiest to Follow" by US News and World Report, the Mediterranean focuses on daily consumption of fruits, vegetables, whole grains and healthy fats such as olive oil. Here's a graphic description of the Mediterranean Diet Pyramid created by Oldways Preservation Trust: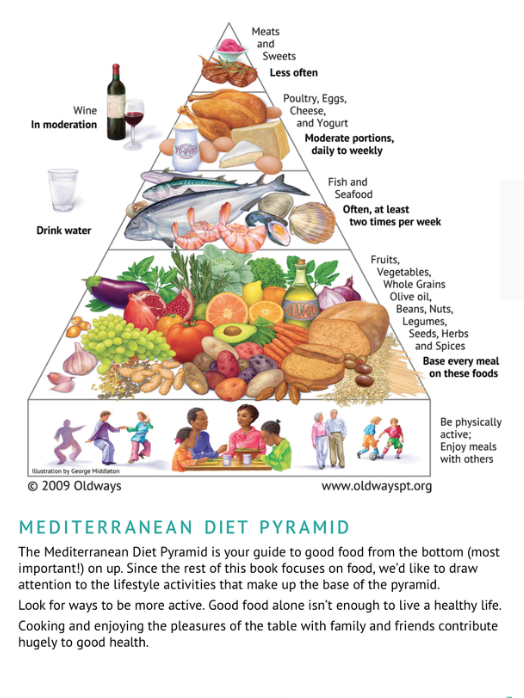 The health benefits of plant-based diets are clear: reduced risk of heart disease and stroke. So whether you prefer to adhere to Mediterraneanism, flexitarianism or reducetarianism, dive right in and try a plant-based meal today.
Oldways has been on the forefront of promoting the Mediterranean Diet as a healthful alternative to the Standard American Diet (aka "the SAD"). Recently, they have launched "Plant Forward Plates", A 100% plant-based toolkit for food service. The Plant Forward Plates program helps institutions and health care facilities provide 100% plant-based menu options. The toolkit is a comprehensive, ready-to-go guide with detailed therapeutic menu plans, 40+ original scaled recipes, and ordering guides. Learn more about the program here.
Sources:
Journal of American Heart Association