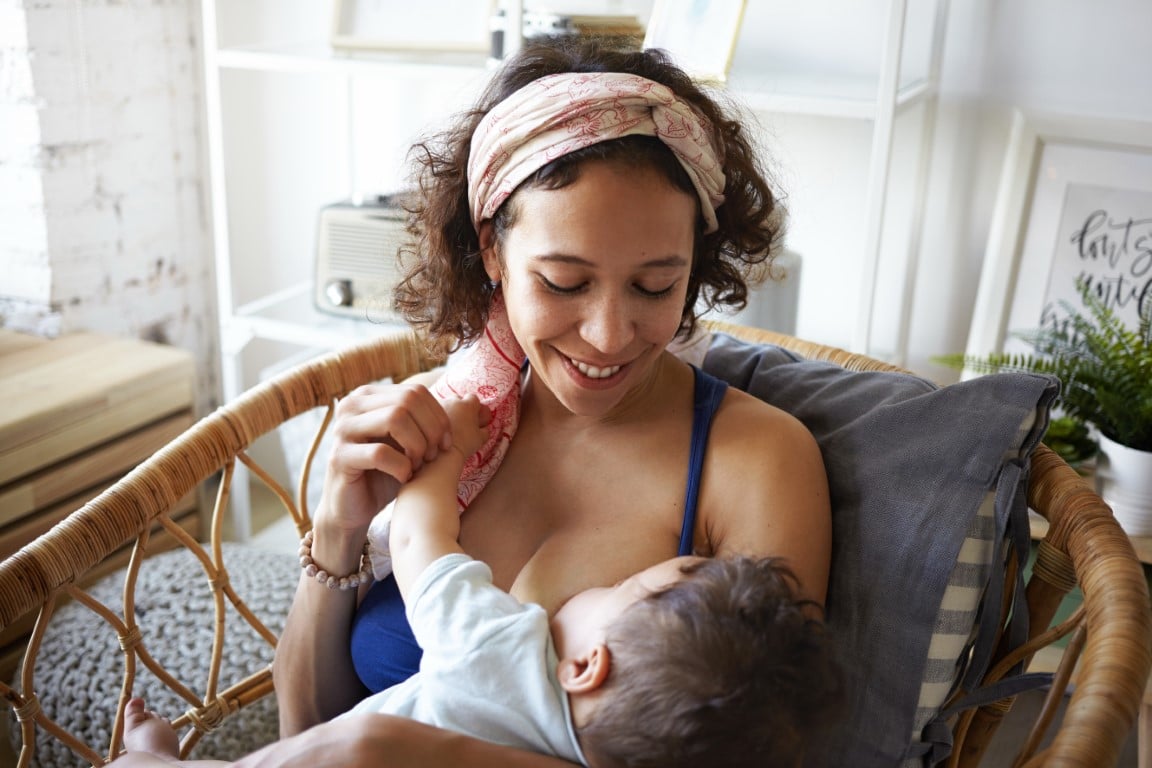 It's well known that a mother's diet impacts the composition of the breast milk she produces. Recent studies suggest that lactating women should include extra virgin olive oil in their diets. Followers of the Mediterranean diet produce milk with a healthier fatty acid profile, and key nutrients found in olive oil have been found to pass into breast milk.

Mediterranean Diet and Breastfeeding Mothers

A study published in Frontiers of Nutrition in June 2022 studied the role of the Mediterranean diet in influencing the fatty acid content of human breast milk.[1] Participants were measured for their adherence to the Mediterranean diet, and their breast milk was analyzed. A high adherence of breastfeeding mothers to the Mediterranean diet was associated with a higher content of monounsaturated fatty acids (MUFA) in their milk and higher DHA (docosahexaenoic acid) content. Clinical studies have demonstrated that DHA, an omega-3 fatty acid, helps support certain learning outcomes, visual acuity, and overall brain development in babies. [2]

Polyphenols for breastfed babies

A study published in July 2022 in Food Chemistry has found evidence that the phenols in extra virgin olive oil--which are believed to be responsible for many of the potential health benefits associated with extra virgin olive oil--can be transmitted into breastmilk. The study, performed on animals, compared consumption of extra virgin olive oil with olive oil and water. It found that some of the polyphenols in olive oil consumed were also found in the breast milk. Furthermore, the phenols were detected in the offspring which indicates that the nutrients were bioavailable and absorbed.

Olive oil for breast health

The benefits also extend to breastfeeding moms. Unfortunately, women who breastfeed often suffer from painful cracking of the nipples. Olive oil can help with this problem as well. A 2015 study found that olive oil was highly effective in treating and preventing nipple cracking with no adverse effects. The researchers suggest 3 drops on each nipple after each feeding.
Moms might also want to look into the latest research on how extra virgin olive oil can protect against breast cancer. A Feb 2022 study found that women who always used at least two tablespoons per day of virgin olive oil for seasoning, cooking and frying had a 28% lower risk of breast cancer than women who didn't always follow this practice. [5]
Olive oil during weaning
Doctors in Italy recommend introducing babies to olive oil at weaning. They recommend adding olive oil to solid food shortly after weaning. According to Britain's NHS, giving your baby olive oil from around six months is safe. You can mix it into purees or mashed foods, or cook the foods with extra virgin olive oil. Allergies to olive oil are very rare but check with your doctor if you have concerns about allergies.
[1] Adherence to Mediterranean Diet of Breastfeeding Mothers and Fatty Acids Composition of Their Human Milk: Results From the Italian MEDIDIET Study
[2] The Relationship of Docosahexaenoic Acid (DHA) with Learning and Behavior in Healthy Children: A Review
[3] Nutrition during pregnancy and lactation: New evidence for the vertical transmission of extra virgin olive oil phenolic compounds in rats
[4] Application of Extra Virgin Olive Oil to Prevent Nipple Cracking in Lactating Women
[5] Type does matter. Use VIRGIN olive oil as your preferred fat to reduce your risk of breast cancer: case-control EpiGEICAM study