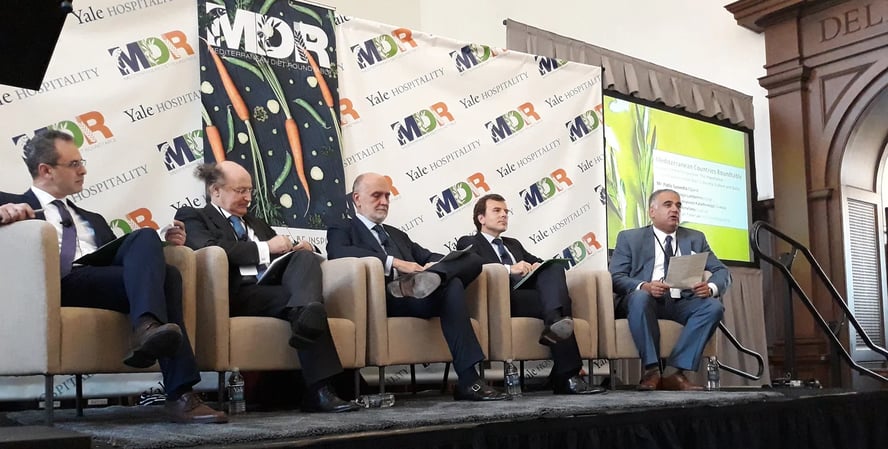 The Mediterranean Diet Roundtable is a leadership summit with a mission to expand the appreciation and implementation of the Mediterranean diet in the United States. The NAOOA has collaborated and supported the MDR since its founding in 2015. Their events have the potential to expand trade and commercial opportunities for olive oil companies by promoting the health benefits of the Mediterranean lifestyle and cuisine. Attendees of their events include doctors, nutritionists, and policy makers, as well as importers, distributors, buyers, and procurement directors.
MDR's program for 2020 takes its efforts to expand trade and commercial opportunities to a new level with five events.
January 19-21 San Francisco
The MDR will host a show-within-the show at the Winter Fancy Food show.
March 8-10, Indiana
The Mediterranean Village - meet 500+ Food Service directors of Colleges and Universities exploring new, healthy, delicious and sustainable products.
March 15, Washington DC
The Ambassador's Breakfast - a roundtable about food, economy, policy and culinary diplomacy.
Summer 2020, South Bend, IN
The MDR - Sport edition! Conference, seminars and B2B with a special focus on sport.
Fall 2020, Athens, Greece
The MDR goes to Greece! Conference, seminars and opportunities in the Mediterranean Diet birthplace.
Sponsorship is available for all of the above events which include a stand at the event, product tastings and depending on sponsorship level, a presentation during one of the main conferences. Participating at an MDR event gives companies an opportunity to reach thought leaders in the health and food industries at a non-olive oil specific event. For more information on sponsorship, contact info@MDRproject.com.
For more information about The Mediterranean Diet Roundtable visit www.MDRproject.com.