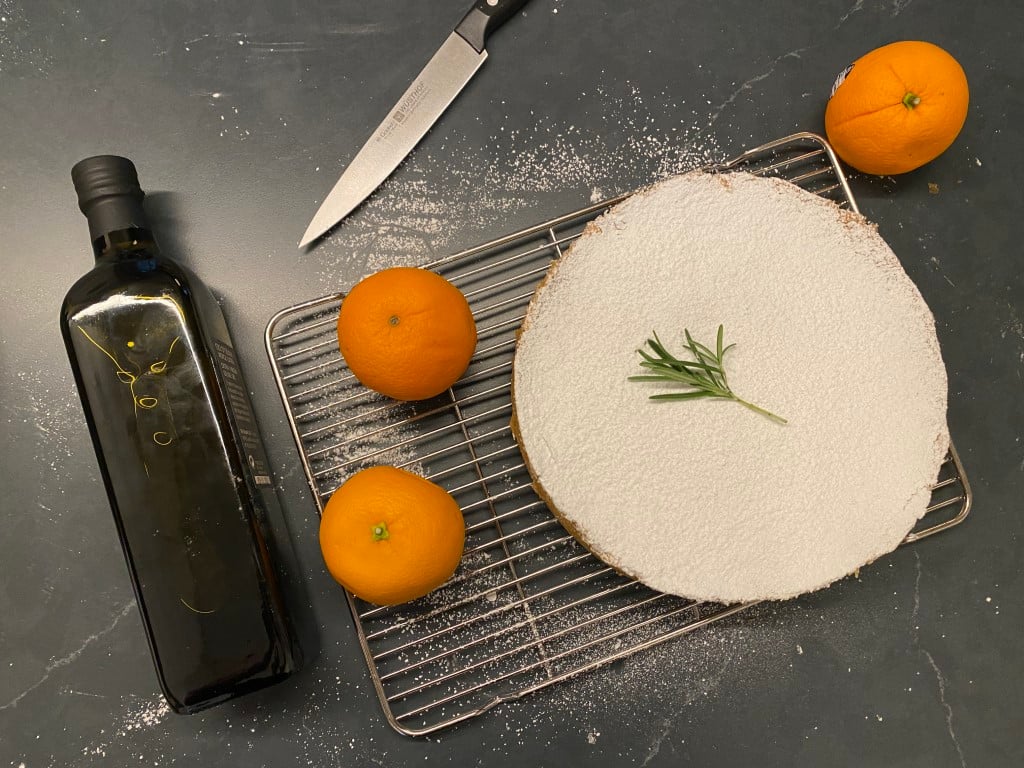 Los Angeles based Little House Confections has become a viral sensation with their Instagram-famous "bomb ass olive oil cake". You may have noticed the beautiful, powdered sugar dusted cakes in your feed.
Celebrities such as Kim Kardashian, Camille Rowe, Kourtney Kardashian, Kylie Jenner, Shay Mitchell, and Phoebe Tonkin are fans of the $42.00 spongy, citrusy olive oil cake. Social media has resulted in explosive growth in sales for the cakes, which are baked in a home kitchen.
Although this chic cake is in high demand and difficult to obtain, but you can easily make a version of it at home. Although they don't disclose the recipe, according to their website, the cake is made with EVOO, flour, fresh squeezed oranges, orange zest, sugar, eggs, baking powder, and baking soda! So here is a version you will love!
Ingredients
1 1/4 cups (170 g) all-purpose flour
3/4 cup (150 g) sugar
2 eggs
1/3 cup (78 ml) extra virgin olive oil
3 tablespoons (44ml) of orange juice (fresh squeezed if you can manage it)
1 tablespoon (6 g) orange zest
1 teaspoon (4 g) baking powder
1/2 teaspoon (3 g) baking soda
Confectioners' sugar for dusting
Directions
Preheat oven to

350 degrees F

Line a 9 inch springform pan or cake pan with parchment paper. Coat the sides with olive oil.
Cream the sugar and eggs together with a mixer set to medium for 2 minutes.
Drizzle in the olive oil and mix for 1 minute.
Mix in the orange juice and orange zest.
Combine the baking soda, baking powder and flour in a separate bowl and add to the ingredients above in two batches. For each batch, gently mix to incorporate all of the dry ingredients into the wet ingredients. Do not overmix which can make the cake tough.
Pour into the prepared pan.
Bake for 30 minutes. The cake is done when it springs back from the touch and and the edges pull away from the pan.
Cool the cake on a wire rack for 20 minutes.
Put confectioners sugar in a sieve and shake it onto the top of the cake.
Garnish with a sprig of rosemary.
Technique
To achieve Instagram-worthy results, here are three tips to achieve the super flat top that you see in the pictures.
When you make a cake, the outside heats up and bakes faster than the inside which results in a rounded top and a cake that is dry on the outside and moist in the center. The key to the appearance of this cake is a super flat top. To achieve this look, use or make a cake strip.

Cut a piece of paper towel to match the circumference of your cake. Fold it lengthwise to the height of your pan. Cut a piece of foil slightly longer than your paper towel strip. Dampen the paper towel and wrap it with the foil and fold it to secure it to the pan. You are looking to insulate the outside of the pan with the wet paper towel which is protected by foil.
For more details on how to make a DIY cake strip, click here.
Make sure there are no air bubbles in your cake batter before baking. You will need to tap the pan or shake it a bit. The air bubbles will cause an uneven surface or cracks in the top of the cake so try to remove them as best you can.
When sprinkling with powdered sugar, do it while it is still in the pan and make sure to get the sugar right up to the edge.
Recipe adapted from Melissa D'Arabian's Orange Olive Oil Cake on Food Network.
Don't forget to share your results on social media! Tag @naooaoliveoil with your creation!