Chimichurri is an Argentinean sauce used to flavor grilled meats. There are many different versions of chimichurri but most contain herbs, olive oil and vinegar. Here is an easy and delicious recipe to try at home.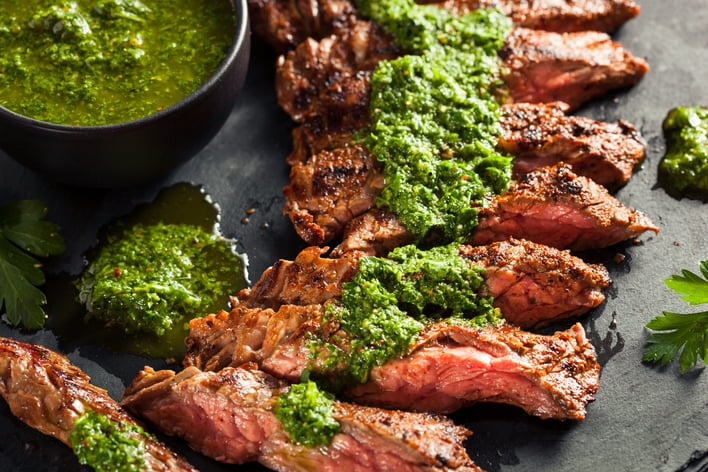 Serves 4
Directions:
For the Chimichurri Sauce:
1 bundle fresh flat leaf parsley
8 cloves garlic (peeled)
1 1/2 teaspoons smoked paprika
1 tablespoon fresh oregano
1/2 cup red wine vinegar
1 tablespoon Lime Juice
1 1/2 cups extra virgin olive oil
1 teaspoon kosher salt
1 teaspoon red pepper flakes (optional)
1/2 teaspoon freshly ground black pepper
Place all ingredients in a blender and pulse until the ingredients are well mixed and the herbs and garlic are chopped. It should be chunkier than pesto.

For the Steak:
Approximately 2 pounds skirt steak or flank steak, trimmed
Coarse salt to taste
1/2 tablespoon of smoked Spanish paprika
Sprinkle the steak with salt and paprika on both sides.
Heat the grill to medium-high. Grill for 3-4 minutes per side (adjust to your liking but go for a nice sear).
Allow the steak to rest for at least 5 minutes, then slice into thin slices. Serve with Chimichurri Sauce.