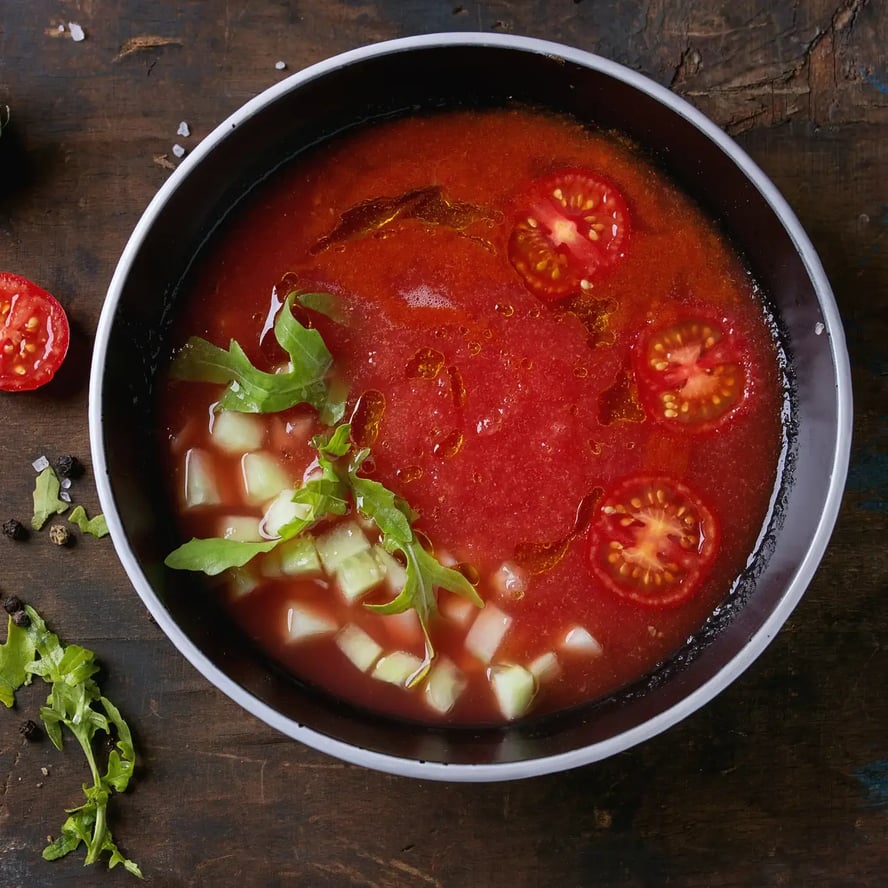 A soup for a warm day you can make in a blender or a food processor. Healthy and easy!
Ingredients:
1 slice country-style bread, about 1" thick, crusts removed
2 small cucumbers, peeled, seeded, and chopped
2 lb. very ripe tomatoes, seeded and coarsely chopped
1 clove garlic, peeled and chopped
2 tbsp. sherry vinegar
1⁄2 cup extra-virgin olive oil
Salt
Optional Garnishes:
1⁄2 green pepper, seeded and finely diced
1⁄2 cucumber, peeled, seeded, and finely diced
1 cup (1⁄2") croutons
1⁄2 small white onion, peeled and finely diced
1 small tomato, seeded and finely diced
Directions:
1. Soak bread for 1⁄2 hour in a small bowl in water to cover. Squeeze out moisture with your hands.
2. Purée bread, cucumbers, tomatoes, garlic, vinegar, olive oil, and 1 cup water in a food processor until very smooth.
3. Push purée through a coarse sieve with the back of a wooden spoon. Gazpacho should be fairly thin. Season to taste with salt.
4. Chill gazpacho in refrigerator for at least 2 hours. Adjust seasoning. Serve in individual glasses, or in soup bowls with garnishes on the side.
For the entire recipe, visit
Saveur