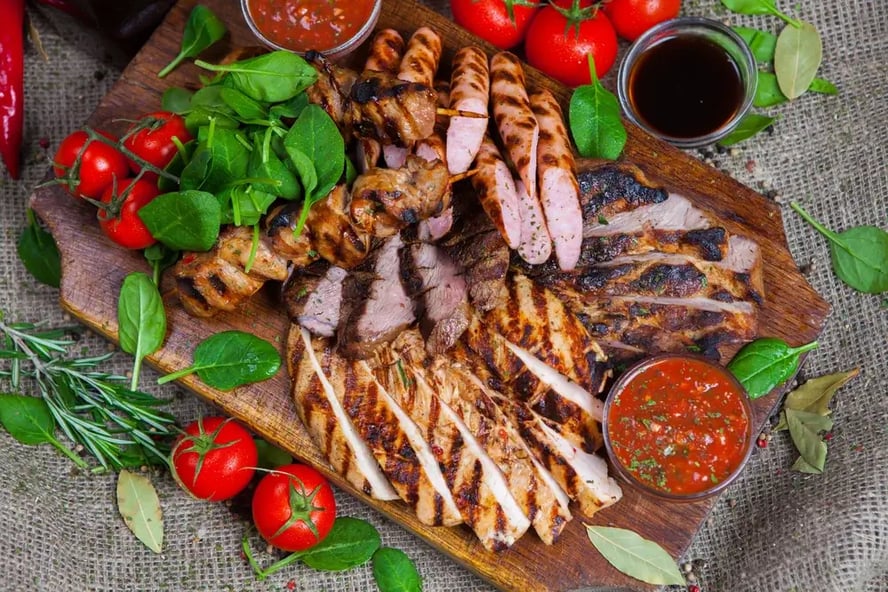 The biggest grilling event of the year is almost here. Get ready for those 4th of July BBQ's with some incredible new marinades that feature olive oil.
EVOO-based marinades blend the distinctive taste of olive oil with delectable spices to make your summer time BBQ dishes more juicy and flavorful, while also incorporating heart-healthy monounsaturated fats. Here are just a few of our favorites:
The Only Marinade You Will Ever Need
By: Steve Raichlen, Barbeque! Bible Sauces, Rubs and Marinades
Why we love it: This simple, yet elegant marinade blends the tanginess of lemon and the bite of pepper into a complex flavor profile. It works equally well on a variety of meats, from fresh cod to chicken, and can be used for basting in addition to marinading.
Here is how to put it together:
INGREDIENTS
1/4 cup fresh lemon juice
1/2 teaspoon hot pepper flakes
1/2 teaspoon cracked black pepper
1/2 teaspoon coarse salt (kosher or sea), or to taste
4 strips of lemon zest
3 cloves garlic, crushed with the side of a cleaver or minced
1/4 cup coarsely chopped fresh parsley
1/4 cup coarsely chopped fresh basil, cilantro, dill, oregano, or a mix of all four
1/2 cup extra virgin olive oil
PREPARATION
Combine the lemon juice, hot pepper flakes, cracked pepper, and salt in a glass bowl and whisk until all the salt is fully dissolved.
Add the lemon zest, garlic, parsley and basil and whisk in the olive oil. This marinade is best fresh; use it within 1-2 hours of preparation and be sure to stir vigorously before using.
By Matt Lee and Ted Lee for Bon Appetit
Why we love it: The spiciness of the jalapeño and the robust garlic flavor create a wonderfully intense flavor that is bright, without being overpowering. This marinade is perfect for red meats like ribeyes or skirt steaks. For best results, allow the meat to marinate overnight.
Here is how to put it together:
INGREDIENTS
1/2 cup red wine vinegar
1 teaspoon kosher salt plus more
3-4 garlic cloves, thinly sliced or minced
1 shallot, finely chopped
1 Fresno chile or red jalapeño, finely chopped
2 cups minced fresh cilantro
1 cup minced fresh flat-leaf parsley
1/3 cup finely chopped fresh oregano
3/4 cup extra-virgin olive oil
PREPARATION
Combine vinegar, 1 teaspoon salt, garlic, shallot, and chile in a medium bowl and let stand for 10 minutes. Stir in cilantro, parsley, and oregano. Using a fork, whisk in oil.
Remove 1/2 cup of the chimichurri marinade to a small bowl, season with salt to taste, and reserve as sauce.
Put meat in a glass, stainless-steel, or ceramic dish. Toss with remaining marinade.
Cover and chill for at least 3 hours or overnight.
Remove meat from marinade, pat dry, and grill.
Serve marinade on the side as sauce.
by: Melissa Breyer for Care2
Why we love it: The clean, fresh taste of the cilantro is well complemented by the sweetness of the orange marmalade and the combination helps bring out the nuances of fresh vegetables.
Here's How to Put it Together:
INGREDIENTS
2 tablespoons olive oil
1 tablespoon orange juice
1 tablespoon orange marmalade
1 tablespoon chopped fresh cilantro
1 teaspoon red pepper flakes

PREPARATION
Combine orange juice and marmalade in a medium bowl and whisk until fully combined.
Stir in cilantro and red pepper flakes.
Whisk in olive oil, making sure the marinade is uniform in texture.
Marinate fresh vegetables for 30 minutes.
Remove vegetables and place on the grill.
From tried and true BBQ to spicy and sweet flavors, EVOO is a great starter for your backyard cookouts this season. Have a safe and happy holiday!