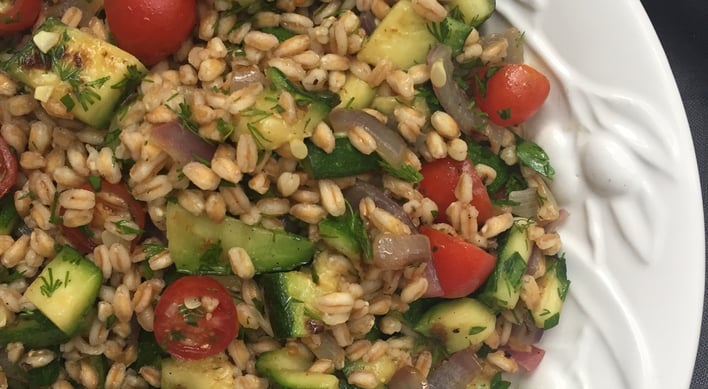 Farro is an ancient grain similar with a complex, nutty taste. It's a good alternative to rice or pasta that is commonly eaten in Italy and other Mediterranean countries. Pronounced FAHR-oh, Farro is has more protein and fiber than an equal sized serving of brown rice.
This recipe, provided by registered dietitian Ellie Krieger, features farro with grilled vegetables and is packed with flavor. It can be a served with meat or fish or stand alone as a vegetarian friendly main dish.
1 cup uncooked farro
2 medium zucchini
1 small red onion
1 tablespoon pure olive oil
3/4 teaspoon salt, divided
1 cup grape tomatoes, halved
2 tablespoons chopped fresh dill
2 tablespoons chopped fresh flat-leaf parsley
2 tablespoons extra-virgin olive oil
2 tablespoons fresh lemon juice
1/8 teaspoon freshly ground black pepper
Cook the farro according to the directions on the package. Drain any excess water and allow to cool to room temperature. You should have about 2 cups of cooked farro.
Slice the zucchini lengthwise into ¼ inch thick planks. Slice the onion into ¼ inch thick rounds. Brush both sides of the zucchini and onion with the olive oil and sprinkle with ¼ teaspoon of the salt.
Preheat a grill or grill pan to medium-high. Grill the zucchini and onion until they are tender and grill marks have formed, about 4 minutes per side. Allow to cool. (The farro and grilled vegetables may be made up to 3 days ahead and stored in the refrigerator in an airtight container.)
Cut the zucchini and onion into bite-sized pieces. Place them in a large bowl with the farro, tomatoes, dill, parsley, extra-virgin olive oil lemon juice, the remaining ½ teaspoon salt and the black pepper. Toss to combine.
Serve as a side dish or top with grilled salmon or chicken as a main course.
Makes 4 servings
Serving size: 1 heaping cup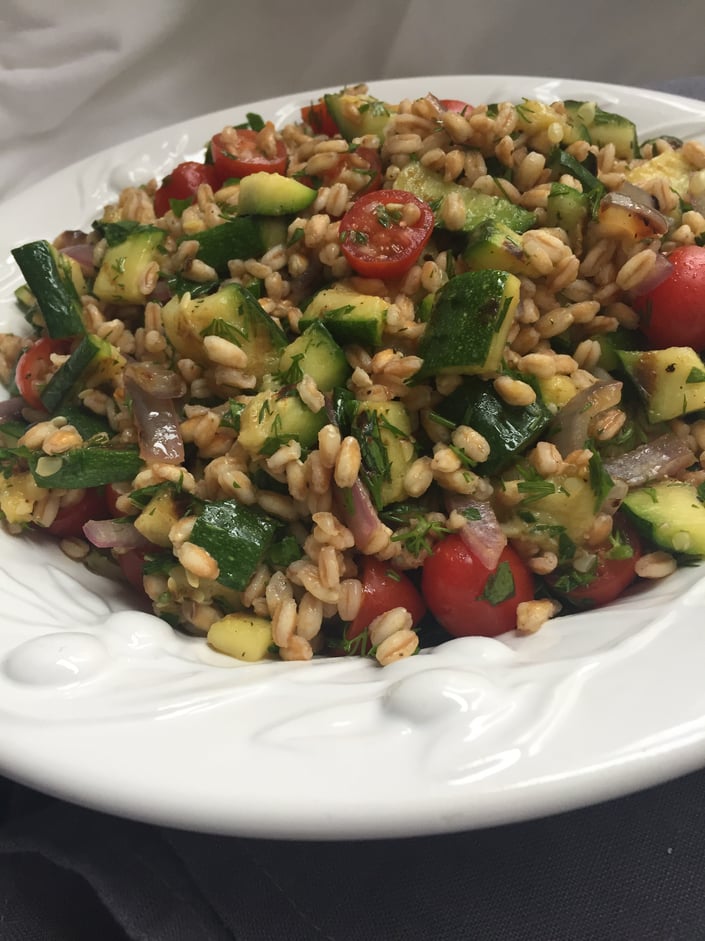 About the Author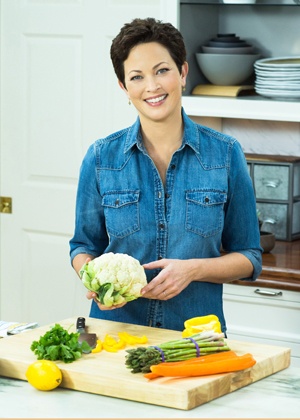 Host and executive producer of the Public Television cooking series "Ellie's Real Good Food," and well known as the host of Food Network's hit show "Healthy Appetite," Ellie Krieger is the leading go-to nutritionist in the media today, helping people find the sweet spot where delicious and healthy meet.
She is a New York Times bestselling, James Beard Foundation and IACP award winning author of five cookbooks. Her most recent is You Have it Made: Delicious, Healthy Do-Ahead Meals (Jan 2016). Ellie is a weekly columnist for The Washington Post and she has been a columnist for Fine Cooking, Food Network magazine and USA Today. Ellie speaks regularly at event around the country, appears on national television shows, such as Today, Good Morning America, and The Wendy Williams Show, and has been featured in magazines like Better Homes and Gardens, People, and Self, to name a few.
A registered dietitian who earned her bachelors of science in clinical nutrition from Cornell and her master's in nutrition education from Teacher's College Columbia University, Ellie has been at the forefront of First Lady Michelle Obama's "Let's Move" campaign from the beginning when Mrs. Obama's team invited her to head up a nutrition education initiative at the "Healthy Kids Fair" on the Whitehouse lawn.
Meet Ellie Krieger at the Olive Oil Conference where she will present "How Olive Oil Compliments Food and Health" with a cooking demonstration.