Chili crisp has been well-known in Asia for decades. Restaurants in China often have house-made versions with widely varying ingredient lists. The one thing they all have in common is that the base is made with oil - which is a conduit for flavor. In the US, you may have seen traditional chili crisps from Lao Gan Ma, by celebrity chef David Chang, or even at Trader Joe's which sells a version made with olive oil.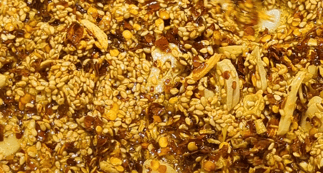 Chili crisp is more than just a hot sauce. The key ingredients are the aromatics such as onion, garlic, and sesame seeds which we simmered in extra virgin olive oil until crisp. Credit goes to Genevieve Ko for her brilliant hack of using dehydrated minced onion instead of fresh onion. This ingredient is easy to find in supermarkets or can be ordered online.
We made this recipe with extra virgin olive oil because it's the healthiest choice. The oil is exposed to heat for a very short amount of time which means that the antioxidants and polyphenols in the oil will be left intact.
This recipe is easy to make at home in less than 5 minutes and can be modified to meet your preference for heat. Once you make this sauce, you will want to try it on everything.
INGREDIENTS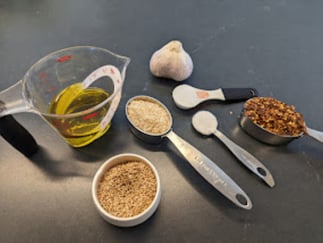 Measure and assemble your ingredients before starting. This recipe comes together quickly. It results in 1.5 cups of chili garlic crisp.
1 cup extra virgin olive oil
4 cloves thinly sliced garlic
1/4 cup dehydrated minced onion
1 teaspoon sugar
1 teaspoon kosher salt
1/4 cup red pepper flakes (reduce for less heat)
3 tablespoons sesame seeds
INSTRUCTIONS
A note on timing. Make this recipe with your eyes, not the timer! If you overcook them, the onions, garlic or sesame seeds will be bitter.
In a dry frying pan, toast the sesame seeds. To do this, add sesame seeds to a pan and stir them with a wooden spoon. Turn off the heat when you hear them crackle or pop. It happens quickly! Do not leave the pan unattended. Remove the seeds from the pan and save them for later.
Add 1 cup of extra virgin olive oil to the pan and then turn on the heat.
Add 4 cloves of thinly sliced garlic. When the garlic starts to turn a golden color add the dehydrated minced onion
Stir for approximately 30 seconds and when the onion is toasted, add the rest of the ingredients.
Cook for 30 seconds to 1 minute - stirring to incorporate the ingredients.
Remove from heat immediately.
Store in a jar.
Refrigerate it and use within 2 weeks.
VARIATIONS
The sauce above is a neutral base that can be tweaked.
You can substitute sesame seeds for ground peanuts
To make it less spicy - use sweet bell pepper flakes or reduce the amount of red pepper flakes used
To make it like Mexican "salsa macha" - swap red pepper flakes for dried Mexican chile peppers
To make it smoky - add in 1/2 teaspoon of smoked paprika
To make it more aromatic - add in 1 tablespoon of minced ginger or add 1 teaspoon of Chinese 5 spice powder
For "spicy and numbing" mala flavor - add 1 teaspoon of coarsely ground Sichuan peppercorns
HOW TO USE IT
Drizzle on eggs, tacos, roast potatoes, avocado toast or grilled meats
Toss with noodles or add a spoonful to instant ramen
Mix with peanut butter, sugar, hot water, rice vinegar and soy sauce to make a quick peanut sauce for noodles or chicken
Mix with cream cheese or sour cream to serve as a dip for chips
Pack into small jars and give as a holiday gift!