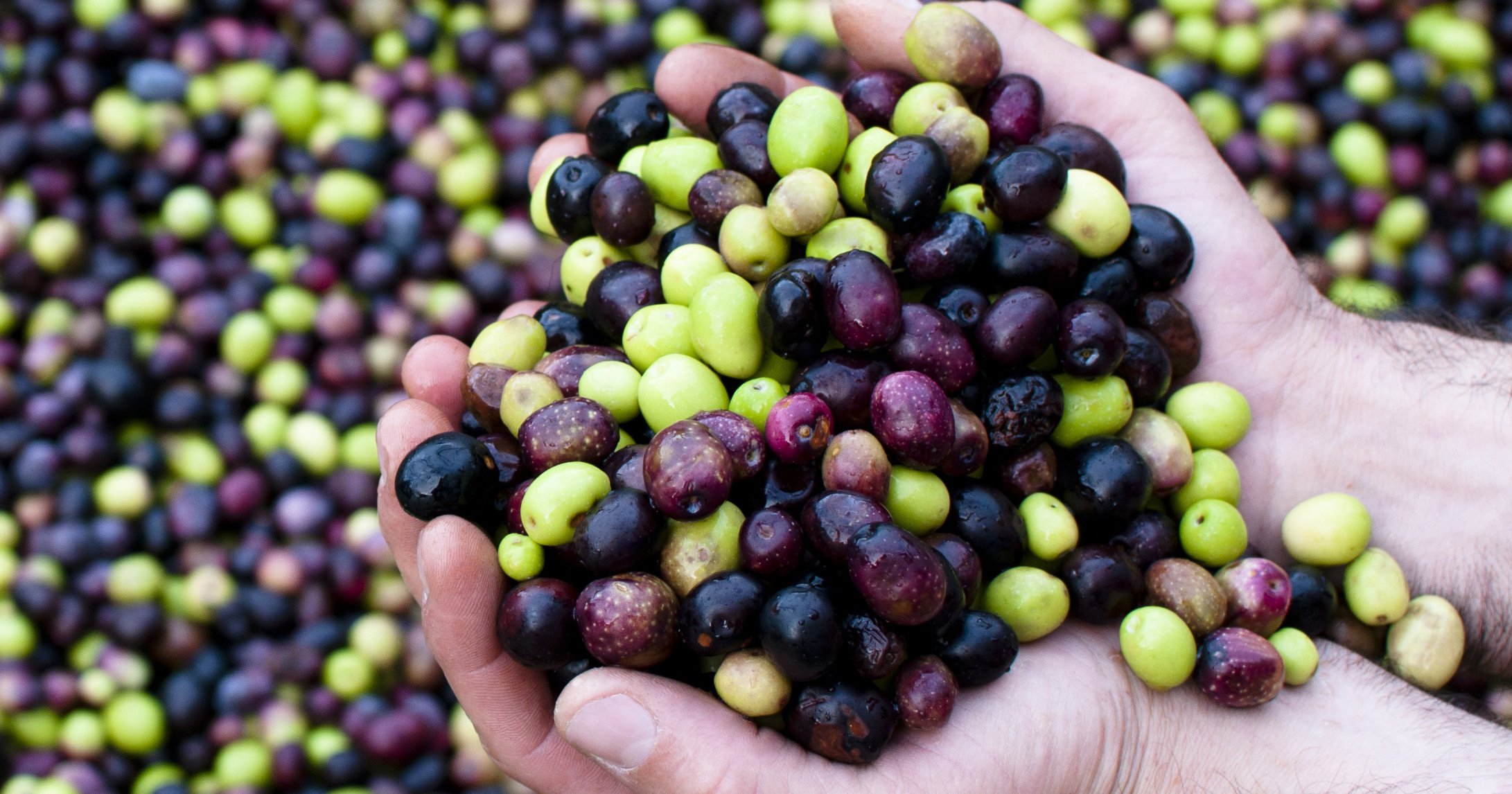 The holiday season is here and from small gatherings with friends to big family dinners, there is no shortage of celebration. The olive harvest, which begins in October, continues in many parts of the Mediterranean (the image above shows a mixture of olives at different stages of ripeness, which is typical at this time of year) throughout the holiday period and into the new year.
Olive oil producing countries celebrate the beginning of the harvest when a robust and flavorful oil is made from green and unripe olives. (In Italy for instance, the oils is called olio novello or olio nuovo.) As the fruit begins to ripen, the oil tends to be more balanced. Whether the oil is "young" and robust or more balanced, there is a dish to match its flavor--even for desserts! Celebrate the olive oil harvest with us! Watch the video below to learn more about how olive oil is made and prepare these olive oil treats to share with friends and family.
Orange Olive Oil Cake
For a decadent and delicious take on holiday cake, try this Orange Olive Oil Cake. Olive oil makes the cake rich, with refreshing notes of citrus.
Ingredients
3/4 cup extra virgin olive oil, plus additional for oiling pan
1 large orange
1 cup cake flour (not self-rising)
5 large eggs, separated, reserving 1 white for another use (eggs should be room temperature)
3/4 cup plus 1 1/2 tablespoons sugar
Directions
Put oven rack in middle position and preheat oven to 350°F.
Grease 9-inch pan with some oil, then line bottom with a round of parchment paper. Oil parchment.
Finely grate enough orange zest to measure 1 1/2 teaspoons and whisk together with flour.
Halve orange, then squeeze and reserve 1 1/2 tablespoons fresh orange juice.
Beat together yolks and 1/2 cup sugar in a large bowl with an electric mixer at high speed until thick and pale, about 3 minutes.
Reduce speed to medium and add olive oil (3/4 cup) and reserved lemon juice, beating until just combined (mixture may appear separated).
Using a wooden spoon, stir in flour mixture (do not beat) until just combined.
Beat egg whites (from 4 eggs) with 1/2 teaspoon salt in another large bowl with cleaned beaters at medium-high speed until foamy, then add 1/4 cup sugar a little at a time, beating, and continue to beat until egg whites just hold soft peaks, about 3 minutes.
Gently fold one third of whites into yolk mixture to lighten, then fold in remaining whites gently but thoroughly.
Transfer batter to pan and gently rap against work surface once or twice to release any air bubbles.
Sprinkle top evenly with remaining 1 1/2 tablespoons sugar.
Bake until puffed and golden and a wooden pick or skewer inserted in center of cake comes out clean, about 45 minutes.
Cool cake in pan on a rack 10 minutes, then run a thin knife around edge of pan and remove side of pan.
Cool cake to room temperature, about 1 1/4 hours. Remove bottom of pan and peel off parchment, then transfer cake to a serving plate.
For a tasty twist on traditional desserts, try a small batch of olive oil ice cream. This creamy and tangy treat brings out the best of seasonal fruits like Bosc pears and blood oranges.
Ingredients
12 ounces Heavy Cream
12 ounces Milk
1 Vanilla Bean, split and scrap
2 pinches Ground Cinnamon
½ cup Egg Yolks
½ to 2/3 cup Honey
2/3 cup Extra Virgin Olive Oil, a delicate, fruity flavor profile is recommended
Directions:
Place heavy cream, vanilla, cinnamon and milk in a sauce pot and scald.
Combine yolks and honey in a bowl with a whip.
Temper honey and yolk mixture with hot milk.
Pour the tempered mixture back into the sauce pot and cook until it coats the back of a spoon. Take care not to boil it.
Strain mixture and cool.
Stir in olive oil.
Cool and freeze in ice cream machine.
Serve with seasonal fruits.
Learn more about how olives are harvested and olive oil is made: