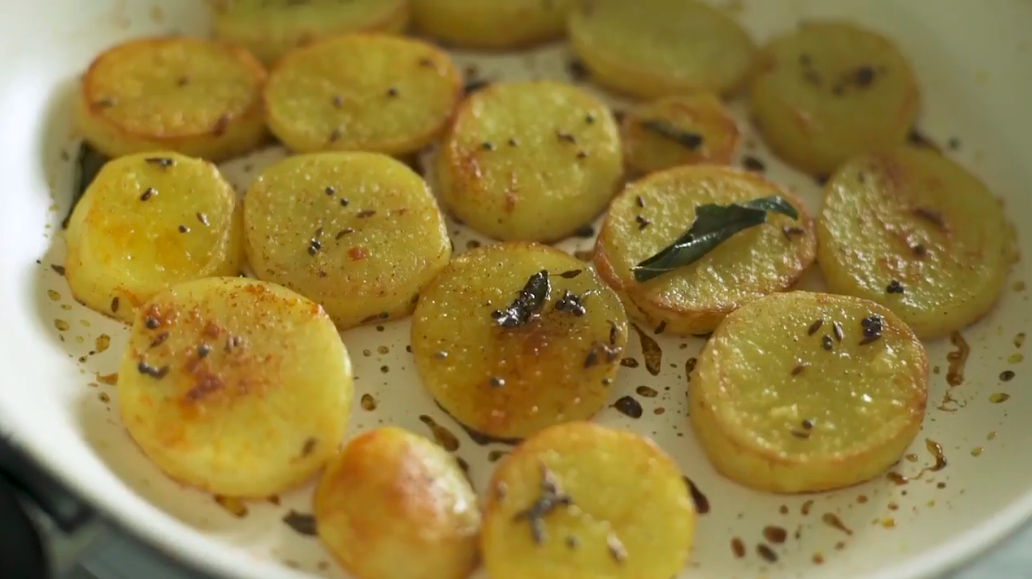 Olive oil can be used in all cuisines and not just for Mediterranean or Italian dishes. Here's a recipe for Aloo Katli, which can be described as spicy potato rounds. Aloo Katli can be served as a snack or a side dish. The recipe uses mild or light tasting olive oil for its neutral flavor.
Aloo Katli
Ingredients
2-3 large potatoes washed, peeled, and cut into 1/2 inch rounds
2 tbsp mild or light tasting olive oil
1/2 tsp black mustard seeds
1/2 tsp whole cumin seeds
6-8 dried curry leaves
1 tsp dried turmeric powder
1 tsp red chili powder (or less if you prefer)
salt to taste
Instructions
Add 2 tablespoons of mild or light tasting olive oil to a non-stick pan over high heat.
Add the potato rounds, keep them in single layers and shallow-fry for 3 to 3 1/2 minutes. Cover the pan.
After three minutes, turn over each potato round. Cover the pan and fry for another 3 to 3 1/2 minutes. (Repeat this process about 4 times to fully cook and the crust is golden crispy.)
Remove the potatoes from the oil and put them aside.
Add the whole spices to the hot oil in the same pan and push them around a little bit until they crackle (not pop).
Add the potatoes back into the hot oil and incorporate them with the oil and spices.
Add the ground spices and only cook until they are aromatic because the potatoes are already cooked.
Add salt to taste.
Remove the potatoes from the pan and enjoy! They're best eaten while they're hot and crispy.