The second day of the Fourth Annual Olive Oil Conference was dedicated to olive oil health and nutrition. We heard from some of the world's top experts and learned about the latest research in nutrition, health and what makes olive oil the original superfood.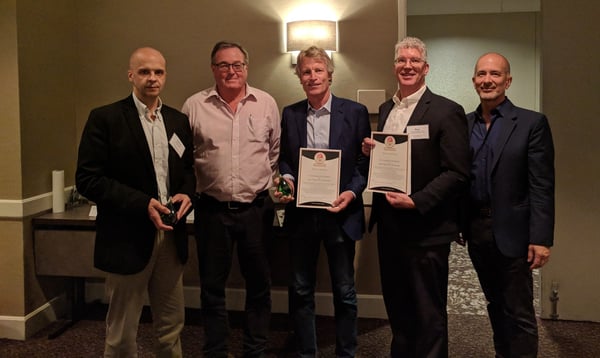 North American Olive Oil Tasting Championship winners: Gabriel Estevez, Dan Flynn; Newly named associate Savante, Paul Breslin.
We started the day with the North American Olive Oil Tasting Challenge. Run by Extra Virgin Savantes, we put our tasting skills to the test. Challenges included detecting varietals and regions, ranking oils by intensity, and detecting defects.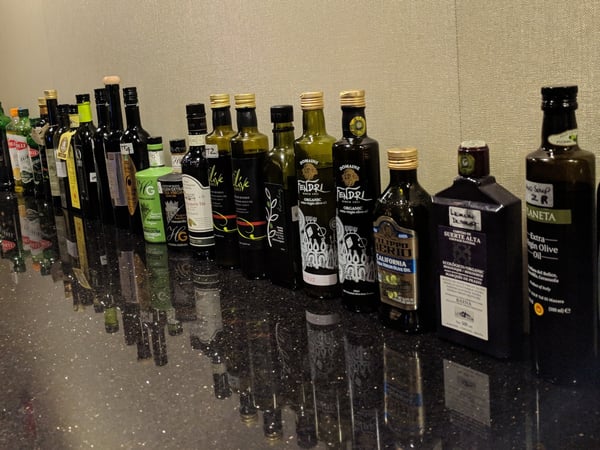 Above: Olive oils selected for the North American Olive Oil Tasting Challenge
The discussion on olive oil health and nutrition was moderated by Dr. Martha Clare Morris, Director of the Rush Institute for Healthy Aging and the MIND Center for Brain Health.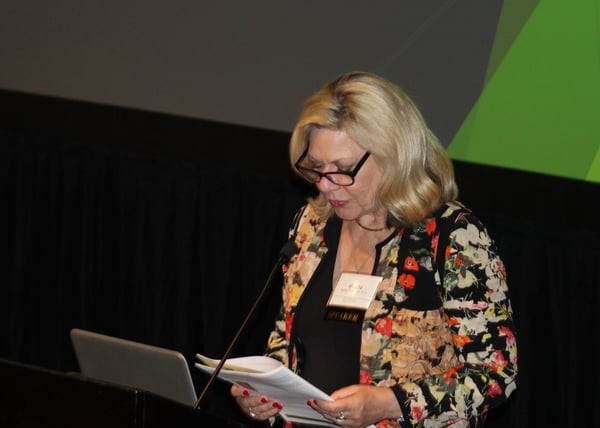 Above: Dr. Martha Clare Morris
In the morning session, NAOOA executive director Joseph R. Profaci and Mercedes Fernandez, of the IOC recognized the 25th anniversary of the Mediterranean Diet Pyramid by providing commemorative awards to Oldways Preservation and Exchange Trust for its role in the diet's creation, and in educating consumers about the diet.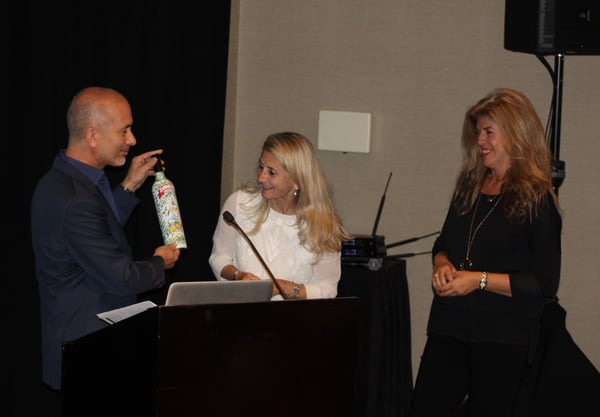 Above left to right: Joseph Profaci, Sara Baer-Sinnott of Oldways, and
Mercedes Fernandez of the IOC

Mercedez Fernandez, director of the IOC's chemical and standardization unit, made a brief presentation about the work the IOC is doing to promote olive oil in countries like the United States that are not IOC members. She provided a summary of the Seminar on Olive Oil and Health that it sponsored at the UC Davis Olive Center in January. Ms. Fernandez also discussed the IOC's efforts to provide a voice in its organization to countries in accordance with their levels of consumption (and not just production).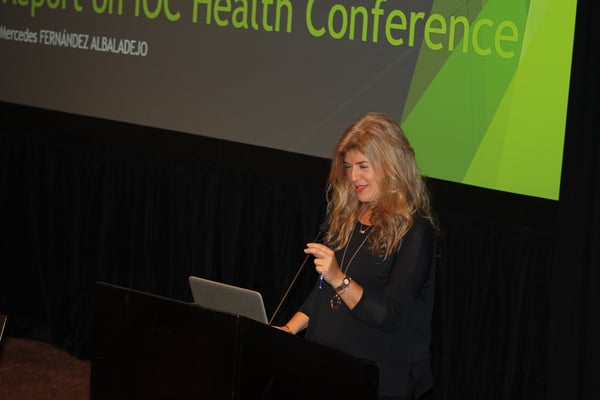 Above: Mercedes Fernandez
She introduced two top researchers, Dr. Francesco Visioli from the University of Padua and Dr. Paul Breslin from the Monell Institute and Rutgers University. Both men are experts in polyphenols, plant-based chemicals that are part of what makes olive oil so healthy.
Dr. Francesco Visioli believes the the health benefits of olive oil primarily come from the polyphenols. Polyphenols fight inflammation which causes many health problems and eventually death. Thus, olive oil can help to fight common western illnesses, especially those that are associated with age and deterioration. In his presentation, he discussed how much polyphenols one should consume. He has conducted toxicology research on hydroxytyresol, and found there was no upper limit to the amount of that compound a person might consumer. He concluded by saying there is a strong link between the food we eat and our health, and that healthy eating is the strongest intervention anyone can do to improve their health. And this means olive oil should be the main fat in anyone's diet.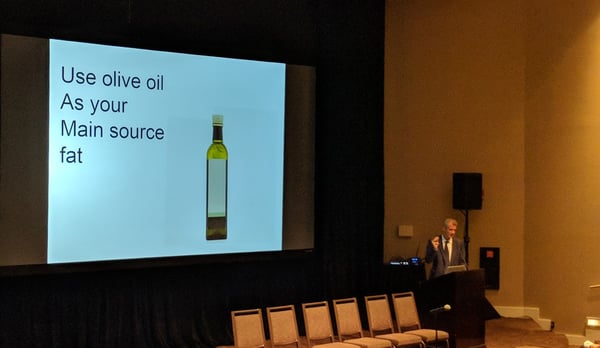 Above: Dr. Francesco Visioli
Dr. Paul Breslin was on the team of researchers who discovered oleocanthal. Oleocanthal is the compound within extra virgin olive oils that cause a burn in the back of our throats. He presented his important research on how oleocanthal works as an anti-inflammatory. He furthermore showed the audience how his team was able to kill multiple type of cancer cell, almost instantaneously, in-vitro with oleocanthal without harming healthy cells. And he explained that oleocanthal has been shown in preliminary studies to alleviate Alzheimer's symptoms in mice. The limited research available suggests that oleocanthal could have tremendous health benefits and more research is needed.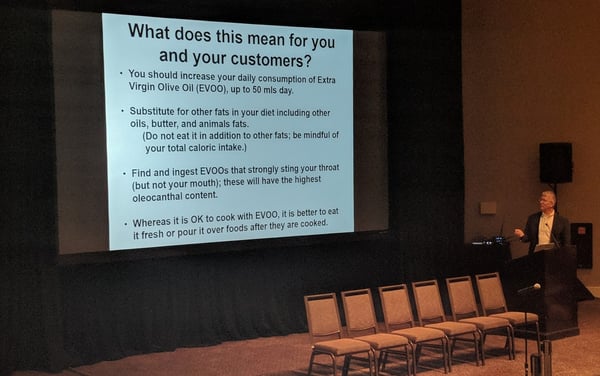 Above: Paul Breslin
Linda Costa, a third generation olive grower and expert in functional nutrition led a demo where participants were able to observe how different olive oils changed the taste of food. Robust olive oils changed the perception of acid in pineapple and enhanced savory flavors of gnocchi. After the tasting, she presented on how imperative it is for Americans to change their diets and to incorporate more unprocessed and home cooked foods into their diets.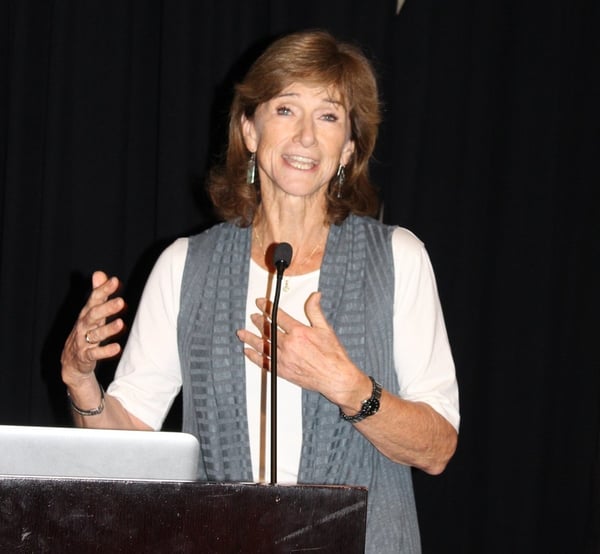 Above: Linda Costa
Dr. Frank Sacks of Harvard Medical School summarized the research on the groundbreaking PREDIMED study. This study proved beyond a doubt that the Mediterranean diet indeed can reduce and prevent cardiovascular death. Furthermore, participants found that diet easy to adhere to and maintain over long periods of time.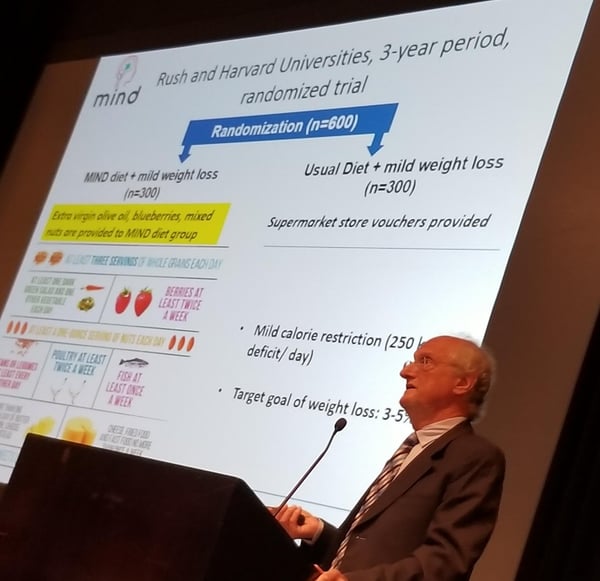 Above: Dr. Frank Sacks
To conclude the conference, both Simon Poole, M.D. and Sara Baer-Sinnott presented on the question how can we effectively communicate health messages to consumers. Dr. Poole, author of the Olive Oil Diet urged the industry to tell the "secret stories" of olive oil in order to help get the message across. To consumers concerned about their health, and also about authenticity, we should spread the word about olive oil: as the original superfood; its history in our civilization from the ancient Greeks, to the biblical era, to the present; as an antioxidant; as an anti-inflammatory; how it increases insulin sensitivity and decreases the glycemic load of meals, increases satiety, and protects us from cancer; and finally, is just plain delicious. Sara Baer-Sinnott of Oldways provided an overview of how her organization used various tools over the past twenty-five years to promote the message of the Mediterranean Diet, such as publications, conferences, seminars, seal programs, websites, etc.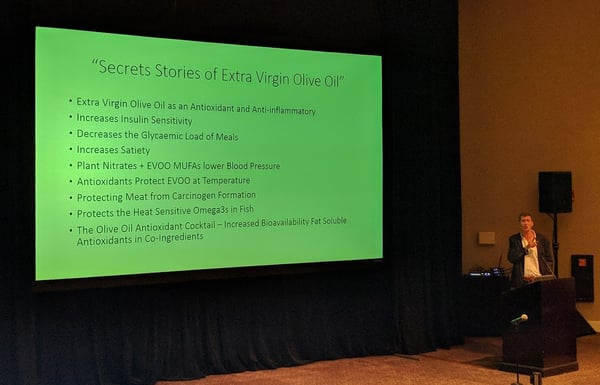 Above: Dr. Simon Poole
Speaking of delicious, we can't forget to mention again the delicious food served by the Westin O'Hare chefs at the conference. In addition to the fabulous Turkish dinner, attendees were treated to wonderful lunches on both days of the conference, made particularly interesting by offering each dish in two half-portions, each prepared with a different olive oil, to allow the diners to compare the two and understand how the choice of your olive oil can transform the taste of the food.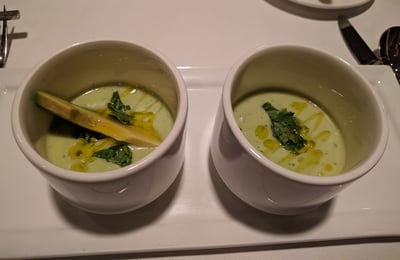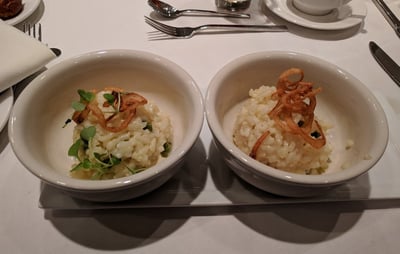 Above: Sample dishes made with olive oil
Thanks for following our posts about the olive oil conference, if you have questions or to request slides, please contact us.