The first day of the 4th Annual Olive Oil Conference was a smashing success. The day, focused on olive oil trade, was full of informative sessions, great food and networking.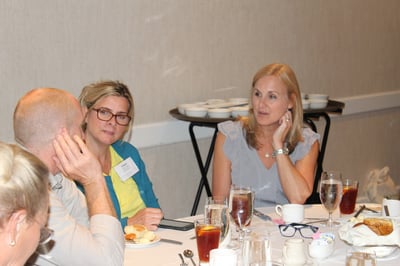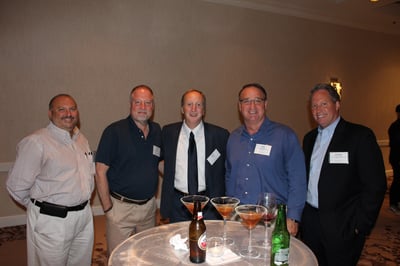 Above: Attendees at the 2018 Olive Oil Conference
Pierluigi Tosato, CEO of Deoleo, the world's largest olive oil company gave the keynote address on the state of the olive oil industry. He challenged the audience to confront the challenges facing the industry including declining demand in producing countries and the commoditization of the extra virgin olive oil category. During his presentation, Tosato also made a call for common standards of identity for olive oil.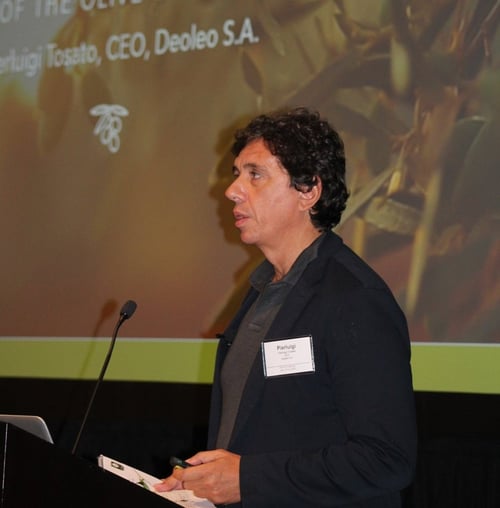 Above: Pierluigi Tosato, CEO of Deoleo
Simon Field, of Extra Virgin Olive Oil Savantes, led a tasting course. Participants were guided through analyzing 4 samples of extra virgin olive oil. Simon shared his insights with the industry leaders in the room on how he believes that we need to transform the conversation when it comes to describing the taste of olive oil. He cautioned the audience from using negative language in reference to olive oil and instead to focus on positive taste qualities.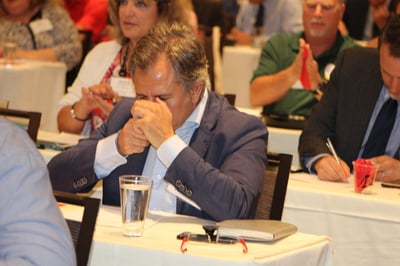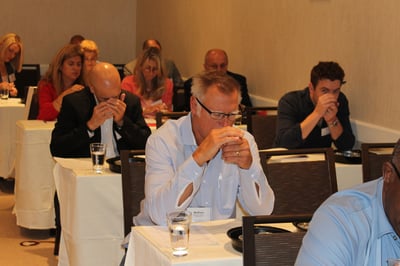 Above: Participants sample olive oil
The AAOPA and the NAOOA co-presented the results of an Olive Oil Consumer Attitude and Usage Study. The presenters were Kimberly Houlding, CEO of AmericanOOPA, Joseph R Profaci, Executive Director of NAOOA, and William Watson of The Fresh Approach. The study revealed some interesting information about who buys olive oil, why they buy it and what would lead them to buy and use more. Members of the audience were excited to subscribe to this blog for more details on the study.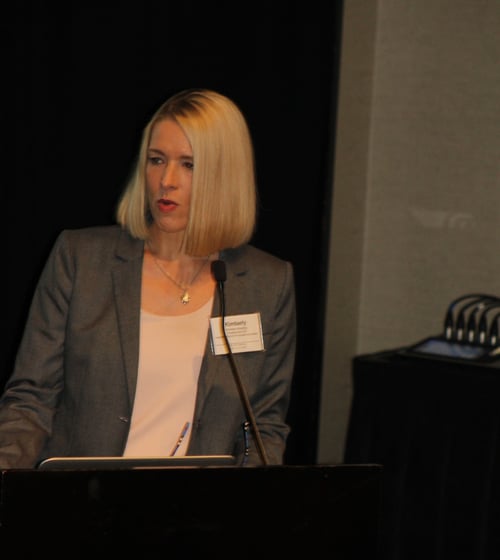 Above: Kimberly Houlding, CEO of AOOPA
Darren Seifer of the NPD Group presented market research on America's Eating Habits. Darren's presentation focused on how to market and sell in today's disrupted food environment. American's eating patterns have changed and health is more important than ever to consumers. However, the definition of healthy has changed dramatically. Today, consumers are looking to add protein, whole grains and fiber to their diets and want to avoid sugar and products perceived as un-natural. He also observed that more and more, consumers want to know what is the "story" behind the products they buy.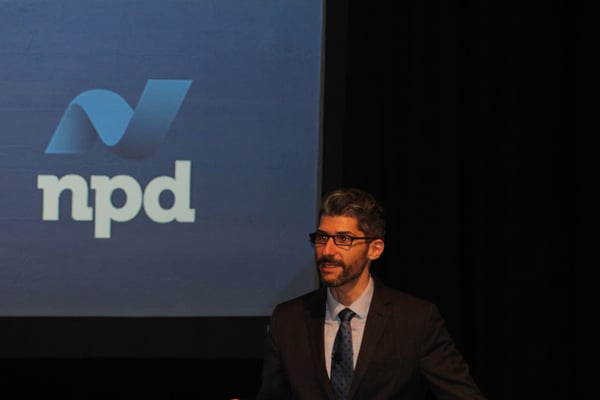 Above: Darren Seifer of the NPD Group
A panel of suppliers, packers and distributors led a discussion on Strengthening Quality Controls for Foodservice. The panel consisted of Donald Griego of AMD Oil Sales, Anthony Devirgilio of Accardi Foods, Bill Reilly of Catania Oils, and Matthew Coffman of Avendra. The panel spoke candidly about the unique demands of food service in relation to olive oil quality (and at times the lack thereof), how to deal with price pressure, and their ideas on how to improve quality.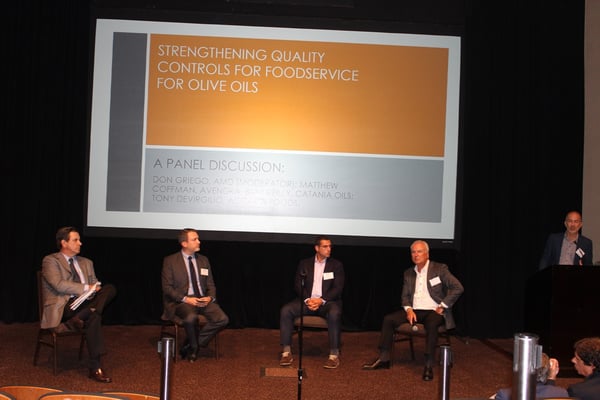 Above: Donald Griego of AMD Oil Sales,

Matthew Coffman of Avendra

, Bill Reilly of Catania Oils, and

Anthony Devirgilio of Accardi Foods.
The day concluded with a presentation from Dan Flynn, Executive Director of the UC Davis Olive Center. Dan presented the results of a survey prepared for the Olive Oil Commission of California by his colleague Dr. Selena Wang on the existing research on scientific methods to help producers more precisely determine the shelf life an olive oil. Dan reported that while Dr. Wang concluded more research was needed to refine the methods, the results were promising, and an acceptable method may not be far off.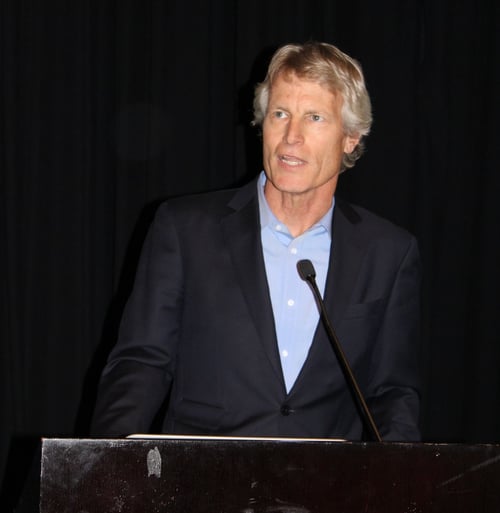 Above: Dan Flynn, Executive Director of the UC Davis Olive Center
We finished the day with a delicious dinner sponsored by the Agean Olive Oil and Olive Oil Exporter Associations. The sponsors helped to design a delicious Turkish themed meal with a shepherd's salad, sea bass on fava bean puree with stuffed grape leaves, and an ice cream soufle, all of which were prepared using extra virgin olive oil from Turkey.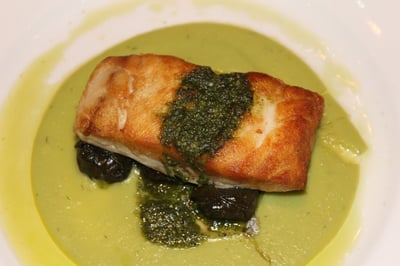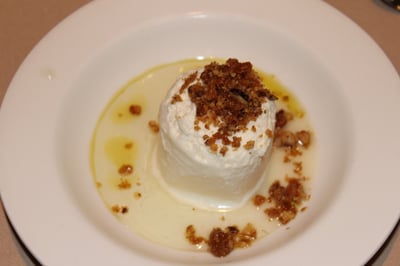 Above: Turkish themed meal made with extra virgin olive oil