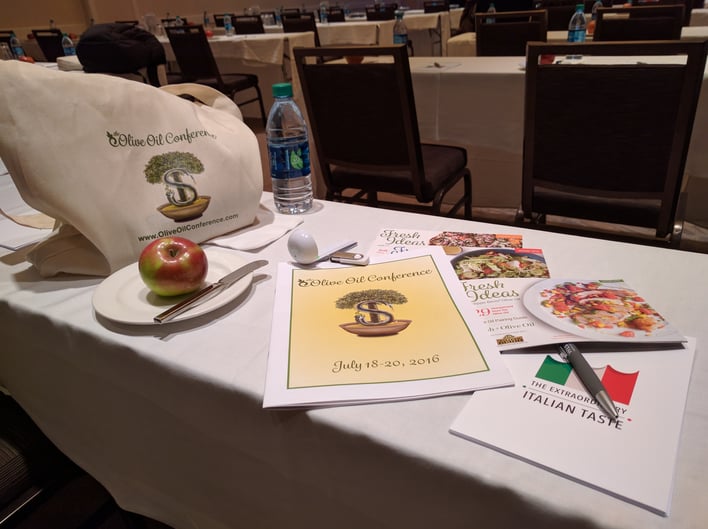 This year's Olive Oil Conference, co-hosted by the North American Olive Oil Association (NAOOA) and International Extra Virgin Olive Oil Savantes, will be held July 19 to July 20, 2017 at the Westin O'Hare in Rosemont, IL.
Registration rates are discounted until May 19, 2017.
For more information and registration, please visit www.OliveOilConference.com.
Here's what you can expect at the conference.
---
Tuesday, July 18

6.30pm-8.00pm
Welcome Reception

Wednesday, July 19

9.00am-9.45am
Tasting Refresher
Sharpening the palate with style and flavor
Eryn Balch, Executive Vice President NAOOA
10.00am-10.45am
Welcome and The State of the Olive Oil Industry 2017
A review of the important data and trends in the olive oil industry
USA and Canada – Eryn Balch
Global – Simon Field, Director, International Extra Virgin Olive Oil Savantes
10.45am-11.30am
Improving Quality and Flavor through Production
New techniques in production and processing which improve quality of extra virgin olive oil
Marco Scanu, Dievole, Tuscany Italy
11.30am-11.45am
Break
11.45am-12.30am
Using Olive Oil in Cosmetics – Bigger than Food?
The growing market for suppliers, manufacturers and retailers in the sale of cosmetics containing olive oil
12.30am-2.00pm
Lunch
2.00pm-2.45pm
The Value of Olive Oil Competitions
Exploring the rigor of the world's competitions and the value in kudos and sales
Soledad Serrano Lopez
2.45pm-4.00pm
Practical Use of Olive Oils in Food
Group work guided by the chefs in using olive oil in different ways
Olly Rouse and Joe Gould
4.00pm-4.45pm
New Trends in Varietal Production with Tastings
The impact on supply and demand of traditional varieties being grown in new regions eg: Coratina in Italy, Peru, Australia: Picual in Spain, Chile, New Zealand, Australia, USA
Simon Field, Extra Virgin Olive Oil Savantes
7.00pm
Dinner

Thursday, July 20

8.00am-9.30am
North American Extra Virgin Olive Oil Tasting Team Championship
10.00am-11.00am
The Olly and Joe Show
Innovative ways of using olive oil in cuisine
Olly Rouse and Joe Gould
11.15am – 12.00pm
Franchising – The Present and Future
The role franchised oil and vinegar stores are expected to play in the supply and demand for olive oil
Brie Thompson, Director, Olivelle, Boseman, Montana
12.00pm-12.45pm
How Olive Oil Compliments Food and Health
Cooking demo highlighting olive oil nutrition benefits
Ellie Krieger, R.D.
12.45pm-2.00pm
Lunch
2.00pm-2.45pm
The Impact of Private Label on the Supply and Demand for Olive Oil
Exploring the impact on the supply-chain of increasing use of private label by large and small retailers
2.45pm-3.00pm
The Future of the Internet for Online Sales
Will online sales and websites play an expanding role in both wholesale and retail?
3.15pm-3.30pm
Break
3.30pm- 4.15pm
Powerful Palate Presentations
Simple new ways of presenting olive oil for tasting to overcome the aversion some have to tasting an oil or getting oily fingers from dunking bread. The novel ideas will be useful for on the counter tasting, sales presentations, food shows and at home. Includes making and tasting olive oil powder.
4.15pm-4.30pm
Championship Awards and Presentations
Close
---
For more information and to download a pdf of the program, visit: http://www.oliveoilconference.com/program.html
---