NAOOA Seal Program
The NAOOA seal is the best indication of olive oil quality and purity on the USA market.
Seal brands must meet International Olive Council (IOC) standards. Both extra virgin olive oils and olive oils are sampled off-the-shelf and tested at least twice per year by IOC-recognized labs. Extra virgin olive oils must also pass a sensory assessment by an IOC-recognized panel.
If your company is interested in licensing the NAOOA seal for your olive oil brand, please complete the form to the right.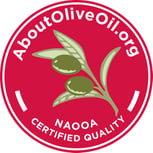 "Being a premium product, there are often rumors that product marked as olive oil may not be 100 percent authentic. The results of our ongoing testing program demonstrate that consumers can be confident in what they're buying. The NAOOA Seal will give them an added level of confidence,"
- Bob Bauer, President NAOOA