North American Olive Oil Association Olive Oil Seal Program
AboutOliveOil.Org Certified Quality Seal Proram

The NAOOA seal is the best indication of olive oil quality and purity on the USA market.

Seal brands must meet the physico-chemical standards for purity and quality established by the International Olive Council (IOC). Enrolled products are sampled off-the-shelf and tested at least twice per year by IOC-recognized labs.


If your company is interested in licensing the NAOOA seal for your olive oil brand, please complete the form to the right.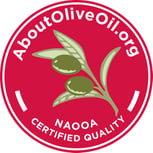 "Consumers looking for pure and natural olive oils know they can trust the NAOAA Quality Seal. Every year, more people visit the list of seal members than anything else on the NAOOA website because it gives them confidence that they're buying a great olive oil."
- Joseph R. Profaci, Executive Director, NAOOA