Extra Virgin Alliance - The Olive Oils
Yanni's Olive Grove is a family-owned company and women-run brand that grows, processes, and packages olive foods in Halkidiki, Greece. It bears over 52 top international quality awards and is a member of the North American Olive Oil Association.
Evi's passion for high-quality olive foods led her to start a farming company that produces and brings to market healthy superfoods and "olive products outside the box". The high international certified company by IFS protocol is under the care of the American Farm School in Greece. It operates with sustainability and social responsibility achieving maximum environmental protection through packaging materials recycling and waste management.
Yannis is Evi's husband, who cultivates the family's owned local Halkidiki variety olive trees planted by his father, Niko. Their individualized olive groves combine traditional and modern cultivation like a "green" integrated management system, an online high-tech satellite cultivation system, and a unique QR CODE traceability system.
The couple's children, Sofia and Niko, are almost ready to follow their parents' food steps to lead the family business to more innovative paths, combining Evi & Yanni's knowledge with a more scientific approach. Sofia is a Chemist, MSc, and Ph.D. candidate who runs the company's Lab and R&D department. Nikos is a University student in Business Administration and runs the company's marketing sector with his mother.
The company also produces a series of innovative olive snacks, consisting of Greek olives either containing natural dried fruits or unique stuffing like fruit cream and chocolate. The main particularity of these products is their naturally sweet taste combined with the ultimate healthiness because of no added sugars, no preservatives, and low salt. At the same time, they are mess & liquid-free and with high energy value but with low calories from fat. Therefore, they are ideal for diabetics, vegans, and people with heart diseases.
The Yanni's Olive Grove company supported the MICOIL study, the first-ever scientific multi-paper research on olive oil benefits on amnesic patients diagnosed with MCI, which leads to Alzheimer's disease. The scientific results have already been published in major American medical journals, and the MICOIL product will soon be released in the American market.
The Principal Investigator of the study and former Director of 1st Neurology clinic of Medical Department in Aristotle University of Thessaloniki, Greece, Chair of Greek Federation of Alzheimer's disease in Greece, and Coordinator of Neurodegenerative Diseases Laboratory Prof. Magda Tsolaki said, "To date, there is no other study that has examined in such detail the effects of extra virgin olive oil on the elderly with Mild Cognitive Impairment as a promising solution for cognitive impairment."
Moreover, under the company's social responsibility policy, Yanni's Olive Grove will donate a sale percentage of this oil product every year to Alzheimer Hellas. They will support the aims, the scientific, social, and charitable activities of this Association, and the extension of a new olive oil scientific study (2021-2023) with 200 patients.
Yanni's Finest High Phenolic Extra Virgin Olive Oil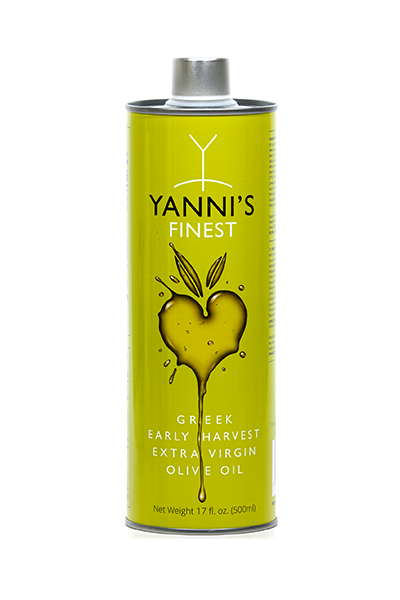 Where to buy
Yanni's Finest High Phenolic Extra Virgin Olive Oil