Extra Virgin Alliance - The Olive Oils
Catania Oils is a family-owned company that dates back to the year 1900. The pursuit of excellence has always been the driving force behind the sourcing of the highest quality extra virgin olive oils. The company spans the globe in search of very unique flavor profiles for its higher end olive oils.
The Catania difference is the company's go to market approach in providing olive oil products that chefs and connoisseurs alike can identify with and appreciate. This is where Marconi "Fresh Harvest" Extra Virgin Olive Oi comes in to play. The bag in box technology provides state of the art packaging that shields the oil from the light and air; olive oil's two biggest detractors.
To take this one step further, Catania sources oil at the very beginning of the harvest season, when the olives are still slightly green and unripened. The company also sources six months from the northern hemisphere and six months from the southern hemisphere and never mixes the two. This ensures all customers they are receiving the freshest extra virgin olive possible 365 days a year.
Why does Catania go to these extremes for their Fresh Harvest Extra Virgin Olive Oil? Unlike wine, olive oil does not age well. Within six months of the pressing of the olive, olive oil will start to lose its original strong and robust flavor profile. By sourcing from both hemispheres, Marconi "Fresh Harvest" Extra Virgin Olive Oil always delivers on quality, flavor profile and freshness. That's the Catania way!
Marconi Fresh Harvest Extra Virgin Olive Oil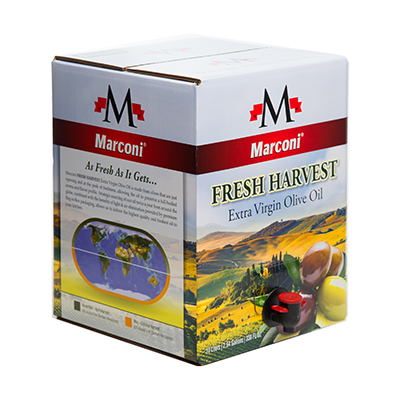 Where to buy
Marconi Fresh Harvest Extra Virgin Olive Oil