Extra Virgin Alliance - The Olive Oils
Ginevra, the owner of Tabata Oil, has started an innovative family business together with her mother, uncle Roberto, and grandparents. Young, skilled, and blessed with a practical outlook, Ginevra wanted to return to her Calabrian roots in the area of Calopezzati to revive a tradition that runs through her childhood memories in the land of her grandparents. Sun, wind, fragrances, colors, flavors: with these sensations close to her heart, Ginevra set out on a journey to the very roots of her family history, bringing a legacy of knowledge and values back to life.

Ginevra chose to name the company after her ancestors and decided to steer it towards fully organic and sustainable farming. The challenge she wants to overcome is to create an outstanding EVO oil that exudes the scents and aromas of this land, rich in nature and history, rough and a little wild, but always welcoming and generous.

The Tabatà olive groves are divided into three estates between the Sila and the sea. In the Prato estate, there are 1,800 trees, including cultivars such as Dolce di Rossano, Biancolilla, Tondina, Leccino, Ogliarola Messinese and Carolea. The Angiolino estate contains around 600 centuries-old trees, divided between Dolce di Rossano, Tondina and Biancolilla. In the Puzzilli estate, 110 Dolce di Rossano plants are more than 120 years old. The SlowFood Presidium monovarietal oil is produced with these.
Dolce Di Rossano - Slow Food Presidio,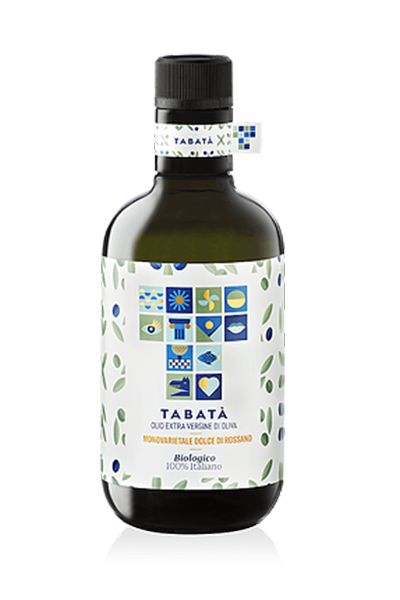 Where to buy
Dolce Di Rossano - Slow Food Presidio,